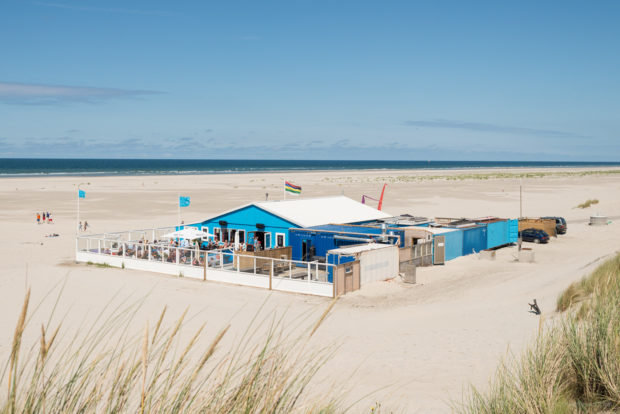 New discoveries
Terschelling in summer? Sometimes all you need is a cold drink and sea views. Well there's enough of that if you decide to spend the summer on Terschelling. The beaches are big and broad and mostly empty. Even on really bright summery days, you'll hardly run into someone while wandering the beach. Only the beach huts and restaurants are filled with holiday goers, enjoying a local brew and – in the case of this particular beach restaurant Zandzeebar – a Schoemrakker. Yum!
Terschelling might be known for its beaches, but the island has so much more to offer. Each time we visit I'm surprised by the amount of things we discover. Always something new to try. I fell in love with the villages. They're all cute and typically old Dutch with bars, pancake restaurants and ice-cream parlours selling home made organic ice cream. You'll find flower farms, sheep farms and shops where you can buy and taste local cranberry goods. I also love the Bessenschuur for example, where you can stock up on gifts and souvenirs like cakes, mugs an cranberry beauty products and candles. Their homemade treats are delicious too. And somehow, with the cranberries, I almost believe them to be healthy.
To do
This year we rented a bike and visited lots of new places and tried new things. Of course the seal watching boat tour is a classic. Spotting seals never gets boring and now that our 3 year old daughter starts to like it too, we get to experience the fun in a totally new way. The beach wagon tour was a first and I would totally do it again. It's great fun to be in a wagon and enjoy this beautiful island, the stories of our guide made it even more special.
In short: this island never gets boring. And whether you are single, traveling with friends, looking for a romantic break or traveling with your family, like we are, it's just perfect and super diverse.