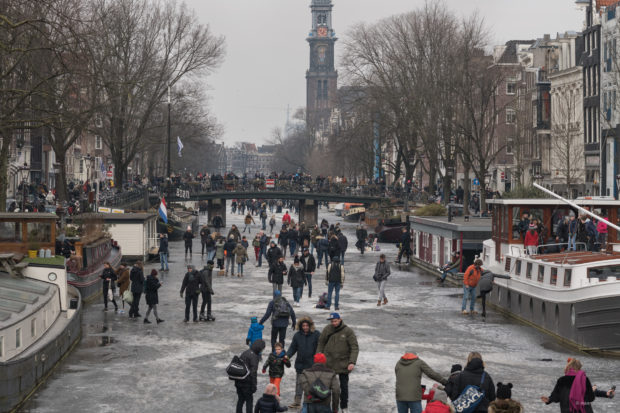 A Siberian Winter
Yes! We feel so lucky, because for the second time since we've lived in Amsterdam we were able to ice skate on the canals today. You might think this happens a lot, bit it doesn't. We've lived here for more than twenty years and it's rare. Very rare. The past week it's been extremely cold – the weatherman called it a Siberian winter even – with temperatures going as low as -8 (-17 with the wind chill!) so everybody was eagerly waiting for the water to freeze over.
So yesterday and today we were finally lucky enough to skate and walk on the ice. It's not as thick as it was 6 year ago and in some places you really had to avoid the ice holes, but it's as magical as ever.
It'll be over soon
We moved to the canals almost two years ago and to sit in front of the window and watch everybody enjoying the cold really is fantastic. I wish it would stay winter for a little bit longer, but I'm afraid it might thaw tomorrow. And then…it's on to Spring. Not a bad thing either…
P.S. Check out our iceskating stories from over 6 years ago here and here.