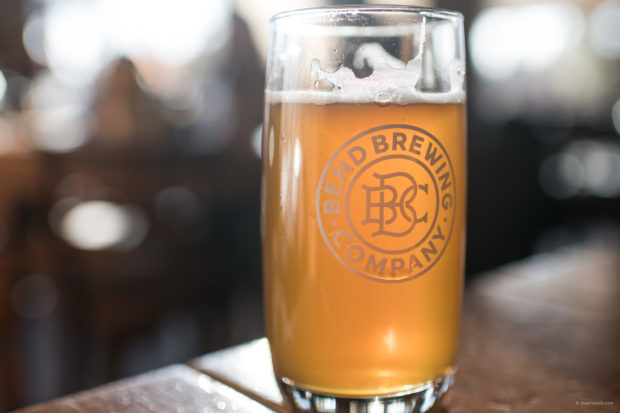 When I read about Bend in the Lonely Planet* I immediately fell in love. This place sounded like our kind of place. The intro said this: Bend is where all lovers of the outdoors should live – it's an absolute paradise. When we arrived we discovered that the guide is right: this is where all outdoor lovers should go. Bend has it all: outdoor boutiques, organic restaurants, a local brewery and – this is the best part – powder snow, waterfalls, hiking trails, mountain biking routes and endless roads into beautiful nature all within a stone's throw.
Bend: coffee, ice-cream and beer
We fell in love with, well, everything in Bend. From the silent disco that was happening at the town square, the delicious coffee at Bellatazza, the organic home made icecream at Bontá (favourite flavours: the peanut butter and theo chocolate fudge, tumble lavender and honey and fig marsala)and the tasty blueberry pancakes at Bad Wolf. We had dinner at another hotspot: the Bend Brewing Company where we sipped on local beer and enjoyed a good old black bean burger (they have a beautiful patio as well).
Sleeping boutique style
Make sure to book a room at The Oxford Hotel, a cute boutique hotel in the middle of town, close to all the coffee places, restaurants and bookshops. Oh and if you need to stock up on gifts: Patagonia is always a good idea and the boutique Hot Box Betty sells a great selection of fashion and accessories.
The outdoors
The great thing about Bend is the outdoors. You can go skiing on Mount Bachelor in the morning – think: powder snow till spring – and kayak on the icy waters after lunch. We visited Mount Bachelor, and watched skiers come down the mountain while enjoying a hot chocolate. Unfortunately there was no time to ski ourselves. Instead we tried to reach the lakes that surround Mount Bachelor, but more about that next time…
*It's still one of our favourite things to do, while planning a trip: we go to the travel book store Pied a Terre in Amsterdam, browse the shelves for travel guides and hiking books for our next destination.