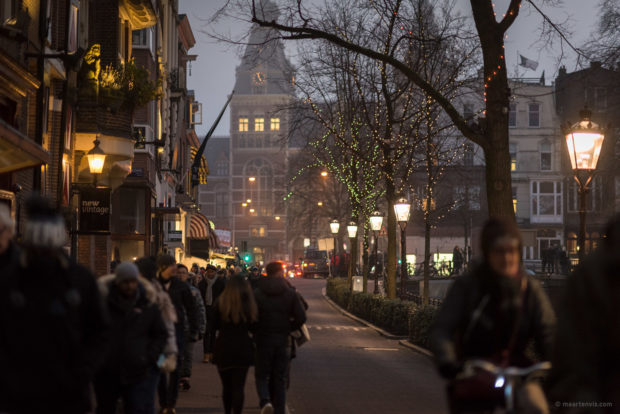 We love living in Amsterdam, but every year in December we love it even more! The Christmas lights, especially the ones in the Spiegelkwartier and the museum district turn the city into a magical place. Trees filled with a thousand little lights, Christmas decorations in the streets and jingle-bell-tunes all around you. It's bound to put a smile on your face.
Hot chocolate
Christmas in Amsterdam is the perfect time to enjoy evening strolls and drink a red wine or hot chocolate in a street corner cafe. Peek into the canal houses where floor to ceiling christmas trees are decorated with the most amazing and colourful balls and bulbs. Or just follow the Spiegelgracht and Spiegelkwartier for a romantic Christmassy evening walk. Stand on a bridge for pictures (you might have to stand in line) and enjoy the enchanting scenery.
We live here and see the lights everyday, but every time I come home from work I am surprised by the beauty of this festive sight.
Dutch paintings
The P.C. Hooftstraat has beautiful lights too (not in the pictures), with sceneries of famous Dutch paintings surrounded by colourful lights. Go check them out. Oh, and the hologram Christmas tree at the Rijksmuseum is interesting as well. You can see it from the tunnel.
So, if you're in Amsterdam, you know where to go as soon as it gets dark!
Enjoy and Merry Christmas!
The Fish & Feathers team