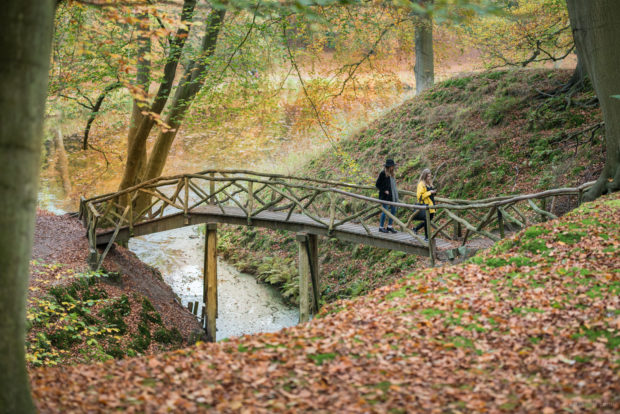 Elswout Leaf Peakers
We love autumn. The greatest thing is – of course – the colourful leaves. Especially on those rare autumn days when the sun is shining and the whole forest seems to be dipped in that perfect golden light.
Pond
Elswout is our autumn forest-favourite, as you can see here and here. We try to visit as much as we can during this season. It's called Elswout and located near Haarlem. You'll find beach trees, English oaks, chestnuts and common lime trees, so the leaves are that beautiful mix of red, brown, yellow and orange. The rolling hills are covered in a green-yellow moss, which makes it look even more magical. The most beautiful spot in this forest is the little pond (you'll find it in the middle of the wood, some 2 km after the parking spot). With orange leaves in the trees and fallen leaves in the water, creating a beautiful mirror like image.
Family fun
Go here for a beatiful forest hike: it's fun for the whole family. You'll find lots of little bridges and colourful fairy-tale like houses. Get your boots on, bring a basket and forage beautiful leaves, pineapples, chestnuts and acorns. We love to make little artworks with them at home. Plus looking for them in the woods makes a hike a little easier with a small one. Also: try spotting mushrooms. in season the Elswout forest is full of them.
So where is this place?
Elswout is close to Haarlem and only a 30 min drive from Amsterdam. There's enough parking next to the entrance of the forest. And there's also a cute pancake restaurant nearby called Kraantje Lek. You can even get married in the middlle of the forest at the beautiful Orangerie. Read more on the Elswout history here.
Other great places to visit and hike or go for family fun: Limburg, The fun park the Efteling and our favourite island: Terschelling.