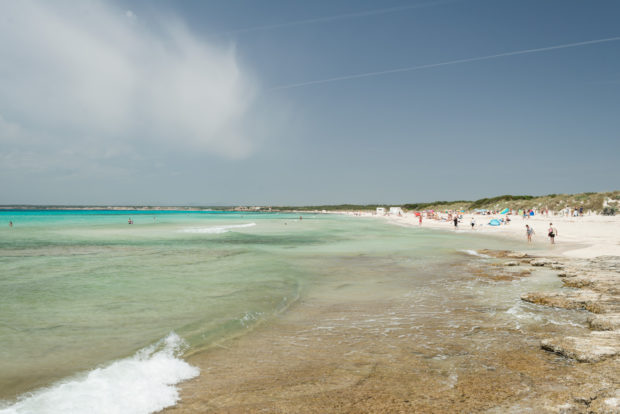 A wide white beach with a natural vibe
See that turquoise water? You might think we visited the Caribbean recently, but nope. This is one of our favourite beaches on Mallorca; Es Trenc. The water is amazingly blue, mixed with shades of green, grey and Poseidon's white horses (I only just learned that's how you call the white crested sea waves as it refers to Poseidon creating a white horse. If you look into the wave, you can see his white manes in the splashes). What sets this beach apart from other beaches is that it feels like some wild, deserted, natural beach. There are no hotels, restaurants or big resorts. Instead it's dunes and grass as far as you can look.
Dining in the Dunes
For those who do like some amenities, fear not, there is a life guard, there's beds and parasols for rent and just a little off the beach you'll find a nice restaurant: Es Trenc restaurant. It's situated halfway down the beach and when you sit down at your table it's as if you're in the middle of nature. You'll get there by following one of the dune paths that lead you from the beach to the terrace. It can get pretty busy, especially during lunch hours and on weekends, so make sure to book a table on the terrace for some delicious arroz negro, paella, pasta or salad. There's also lots of restaurants in Ses Covetes, the small town at the western beach entry.
Getting there
The drive to this beach is beautiful. It's located on the eastern part of the south coast, and if you take the MA-19 and then the Ma-6014 you will spot lots of beautiful old farms and mills. You can even take a nice detour and visit the Flor de sal d'es Trenc, the salt lakes and cute little shop, where you can buy salt (obviously), but also delicious island-made olive oil with lemon, almond perfume and gifts crafted from the famous local fabrics.
Want to see more of our favourite beaches on Mallorca. Check out this secluded beach, and other beautiful spots here, here and here.
SaveSave
SaveSave
SaveSave