A family friendly trip to the Palma Aquarium on Mallorca.
It's funny how – when you have children – you discover totally new things in a place you've been visiting for many many years. As you can see here, here and here, we've visited Mallorca lots of times and with a family home in Port d'Andratx it really feels like our second home. We have our favourite little bakery where we go for breakfast. Our favourite beach and beach restaurant where we spent many afternoons. And we even have our favourite go to boutiques in Palma (and I don't only mean Zara).
Nemo
But last time we decided to try something new and kid-friendly and we visited the Palma Aquarium. The place is huge. It has 25 aquariums filled with the most beautiful fish, coral and water plants. Some aquariums were lighted in a special way, creating a beautiful, dreamlike live 3d painting. Other tanks are really huge and you can really spend a long time watching all the fish. There's cushions in front of the glass, so you can sit down and relax while you try to spot a clown fish.
Shark tank
The most spectacular of them all is the huge shark tank. It's the biggest shark tank in Europe and you can look at it from every angle, watching the sharks – and all the other beautiful fish – float by. I think the jelly fish tank is maybe the most beautiful one with coloured jelly fish slowly drifting up and down in a tank where the light changes every few seconds. Almost like a piece of art.
Jungle Garden
The park also has a huge outside area with ponds, tanks where you can actually see divers between the rays, a playground and terraces. There's a huge fountain where kids can play and run around in. Needless to say we spent a lot of time there, since it was a really hot day. Also great: the jungle garden where you can walk on an elevated bridge through beautiful plants. Really, this place is more diverse than I thought. It's a fun experience for every age!
Next time, I'll tell you all about one of our favourite beaches on the island. Until then…this beach wasn't so bad either…
For more family friendly trips, check this out.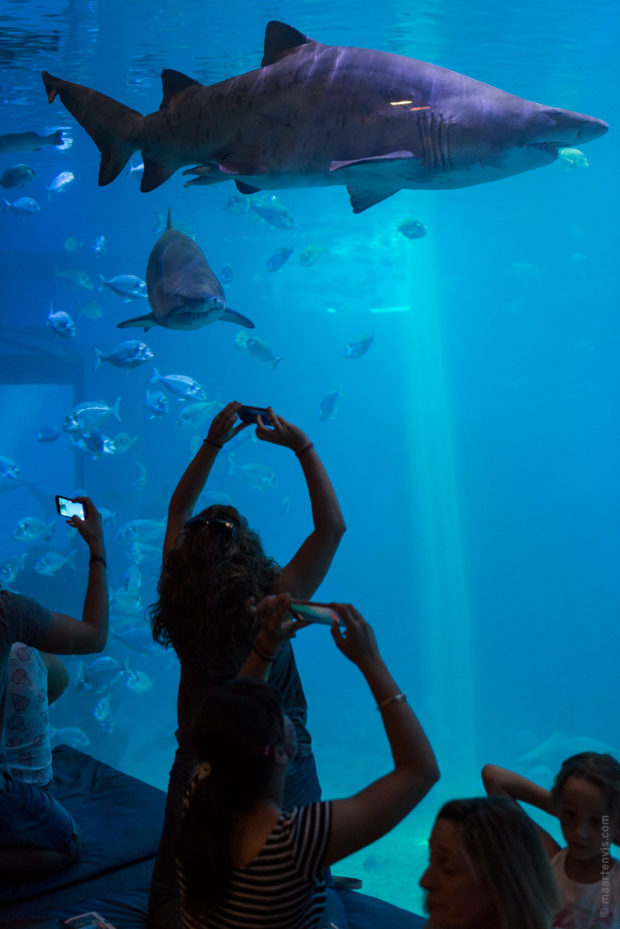 SaveSave
SaveSave
SaveSave