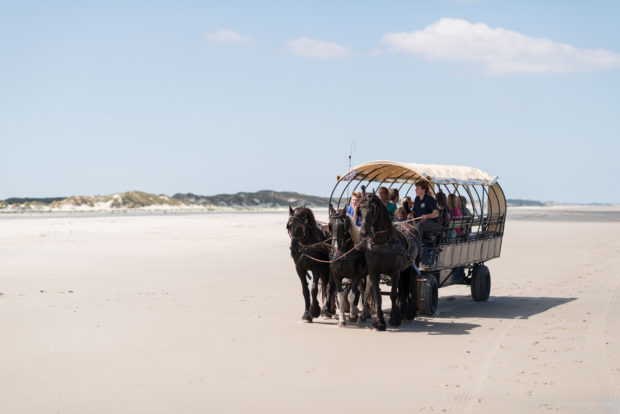 Beach combers tour.
Terschelling is great for families. It's got beautiful beaches. Miles and miles of biking routes. And lots of restaurants that are really kid friendly with playing corners or a little playground on their terrace.
But best of all – for kids and grown-ups – is the wagon tour with a real horse and carriage*. We booked the 'beach comber' tour that was filled with adventurous and funny anecdotes about the beach combers on the island. Apparently people still do this a lot. As soon as they hear that a ship has stranded or has lost its load on open waters everybody is waiting on the beach for the treasures to hit land. Our guide told us lots of beautiful stories, not only about the beachcombers, but also about the different villages, the architecture of the houses – especially the old farm houses – and the cultivation of the land. It gave me a whole new and different perspective and made me look at the fields and planted trees quite differently.
On the beach.
The carriage was drawn by two enormous, strong black horses. We galloped through flower fields, sandy dunes, woodland and little villages. My favourite part was when we trotted over the hills onto the wide open beach. The weather was really clear that day and with the sun out all the colours seemed brighter than the were before. A really clear blue sky and the sea almost seemed turquoise. We stopped for tea, coffee and local cookies right there on the beach. Left our shoes in the carriage and walked along the water enjoying the views and earl grey.
We loved it, our daughter (3,5) loved it and I can't imagine anyone not enjoying themselves on such a fun afternoon. Next time we plan to book another horse and carriage tour. Maybe the Falling Stars tour, where you'll drive to the edge of de Boschplaat, the natural park of Terschelling, and watch the falling stars from the middle of nowhere. Or we'll do a Wadloop tour, where you'll walk from the main land to the island.
P.S. The tour takes 2 hours (ours took three) and costs €19,50 for grown-ups and €9,50 for kids. Enjoy!
* And the seal watching tour of course!