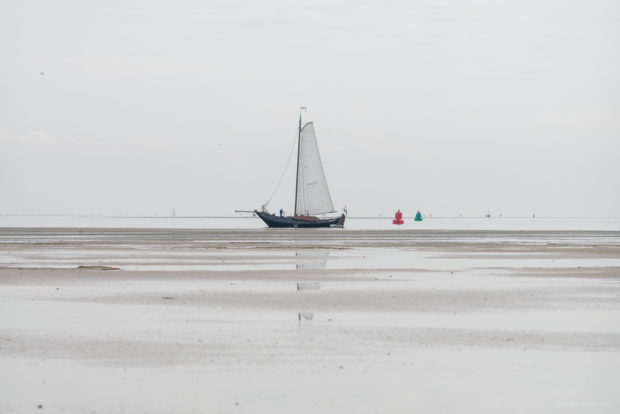 A return to the green beach.
Nothing beats walking on the beach. Especially during low tide when the beach is extra wide and you'll spot all sorts of underwater life above ground…
The green beach and the surrounding dunes on Terschelling are truly beautiful. This area is part of the Noordsvader nature reserve. Think: a huge beach surrounded by green rolling dunes where during low tide fishermen's boats are resting on the sand and waterbirds enjoy a great meal.
Sometimes the water doesn't fully disappear, creating a beautiful pattern of water and sand. Wellies are a must to keep your feet dry. Or even better: take off your shoes and enjoy the cool dewy sand with your bare feet. (Unless you like your Nikes soaked, like Maarten – our photographer – does…)
We love to hike the green beach and the grassy dunes. It's so big that it's sometimes hard to measure the distance from the beginning of the beach to the high dunes all the way to the west. But once there you can enjoy great views towards the neighbouring island Vlieland, another great Waddeneiland.
This area of Terschelling used to be a sand bank that slowly moved towards Terschelling and got stuck on the land a century ago. This makes the flora and fauna very diverse and interesting.
Always different.
One thing we know for sure, after a long walk we'd like to treat ourselves to coffee and cranberry cake at one if our favourite beach retaurants: De Walvis (meaning: the whale). The views from this place are spectacular, especially during the end of the day when the sun sets and creates the most amazing skies.
One more thing: I said it before, this island and its views change every second of the day. With the wind, the clouds and the sun the scenery and colours are never the same. We once visited this beach on a bright sunny day, as you can see here. This time, the mood was soft, almost like someone unsaturated our views and put a soft focus filter over the landscape. Isn't it magical?
SaveSaveSaveSave