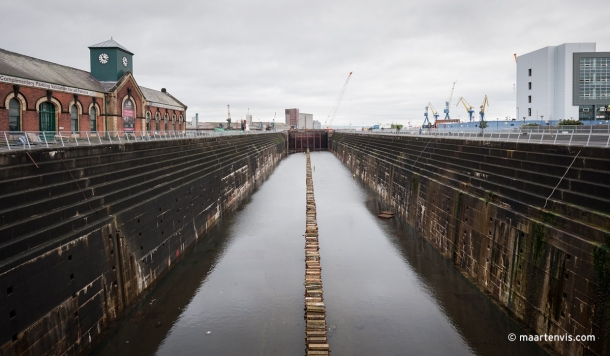 Remember when we were in Ireland last February? We started out in Belfast, drove the magnificent Causeway Coastal Route, visited ruins and mythical places, ate in fantastic restaurants, tasted some Irish Whiskey and Guinness and concluded our Northern Ireland journey in style in an actual castle. Because we didn't have a chance to share everything with you yet, we are going to take you with us through this amazing country. Everyday for the next couple of weeks you can relive this trip with us on our blog. Starting today in Belfast:
We already told you about the impressive murals, the hotel we stayed in and the pub where we had our first Guinness ever in Belfast. But one of the main reasons we visited Belfast was the new Titanic Belfast museum. You probably know that this year it's been a 100 years since the Titanic sank and in honor of that they built a beautiful museum close to where the actual Titanic was built. This area is very cool and upcoming and even houses the studio where they filmed the popular tv series Game of Thrones.
The museum is an architectural masterpiece that – not surprisingly – looks like a ship, but reflects the sea in it as well. When you visit, make sure you see the dock where they built the ship. It's big. Really. It's gigantic. Of course you know from the movie that the ship is grand, but seeing where it was actually built you will be amazed. Even more special were the stories our guide told us and the old black and white photographs he showed us of the men who used to work on the ship everyday. I closed my eyes and could almost feel how it must have been. And of course, after this we went straight to the hotel to watch Titanic again on our laptops.