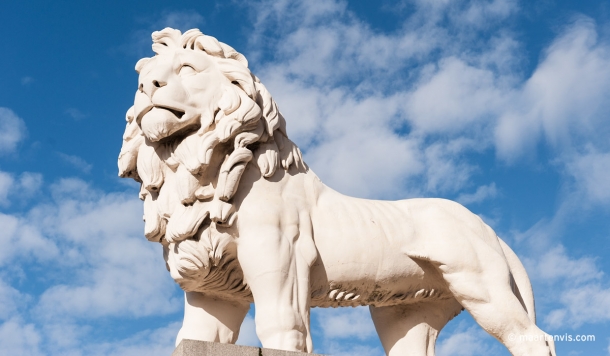 When I travel to London it's usually for 2 to 3 days and I end up spending most of my time in Topshop, Notting Hill and Topshop again. This time, we were invited to see London from a a whole different side: from up and above and all different kinds of angles to be exact. For starters, we finally visited the London Eye. Wow! The views are breathtaking, especially on a clear day. I say this, because we also visited the Shard building and were a little less lucky. The Shard is the highest tower in London and will be open to the public soon. We took a speedy elevator to the 72nd floor and saw… clouds. It was still special though. Mainly because we had to go for a builder look of helmets, fluorescent vests and builder boots.
Apart from the elevator and Ferris Wheel we traveled by boat, plain, train, cab, subway and cable cart all in one day. My favorite? I love seeing a city from the water. Especially when you hop on in a quiet area on the Thames and slowly get closer to the city center.
After all the boats, buildings and some squeezed in shopping-time, we got a private tour of the National Gallery. We discovered the newest Bond movie is filmed here in one of the rooms and on the roof. If you look at the trailer you can see 007 standing in front of a painting. (after 50 seconds to be exact).
P.S. Did you know that easyJet flies 7 days a week from Amsterdam to Southend Airport? It's the perfect airport for getting into London fast and easy (only a 45 minute train ride from the center with a train station literally 50 steps from the terminal). A return ticket costs around € 69 and can be booked here.) Also an ideal flying route if you want to combine London with some cute coastal villages like Chilham. That's what we're going to do next time!