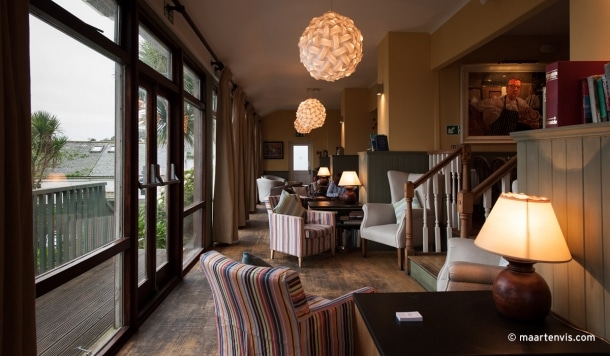 During our Cornwall trip we discovered something that is high on our return-wishlist. I know that when you travel, these lists tend to get longer and longer. Especially when you don't have much time you always leave thinking: "Oh! I really wanted to see that." And "Ah! I wish we could just stay a little bit longer." Well, this hotel gets a top position on that list.
It is just perfect. The interior is homey, but not stuffy. With the perfect colors, but not overdone. And with finishing touches you wish you came up with yourself for your own house. I'm talking about The Old Coastguard in Mousehole, Cornwall. A family run hotel with seaviews and a very exotic garden. We fell in love with this place. The rooms are just as we like them, very tastefully decorated with lovely art by local artists. And, who needs television when you can listen to the radio (don't touch all the buttons, one will do) or pick a read out of a stack of books on the paneled headboards?
The restaurant is cosy and will fulfill all your culinary dreams, great quality for an affordable price. I'm no easy eater – vegetarian and if it doesn't look nice I can't eat it – but this was so good, we came back here for our last night in Cornwall. Sweet potato and leek soup, grilled parsnip, home-made fries, fresh artichoke…are you hungry yet?
I didn't even mention the location yet: Mousehole. Probably the cutest little village on earth, where you'll find 7000 twinkling Christmas lights during the holiday season. But more about that tomorrow.