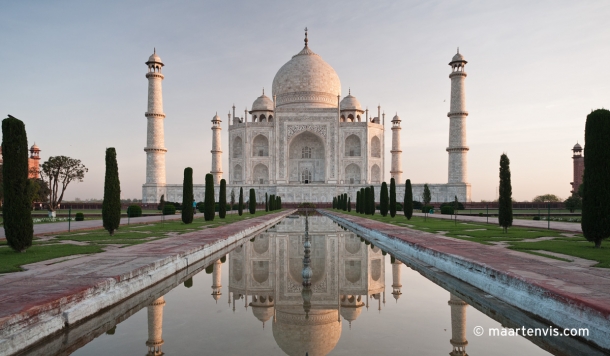 When Mughal emperor Shah Jahan's third wife died during labor he was so overcome with sadness he built a white marble mausoleum: the Taj Mahal. It took over 16 years to finish the actual building, and another five for the garden and surrounding buildings. Every wall, every centimeter on the floor and every corner are worth looking at: laid in semi-precious stones can be seen in the white marble of the mausoleum. Delicate calligraphic scripts written with jasper decorate the towers, growing in size to reduce the skewing effect. And the jaali screens made of thick pieces of marble are wondrous pieces of art by itself. So, let's be clear about the fact that you can't leave India before you've seen the Taj Mahal. I know, a total cliche, but of all the buildings in the world, this one should definitely be on your bucket list. Agra, where the Taj Mahal is located, is only a two hour train ride from Delhi. So, no excuses there. Make sure to be the first one at the gate and hire a guide, who runs (yes runs) with you from spot to spot to take the best pictures. You only have 3 minutes to shoot all these different angles, before the crowds overflow the grounds. After that, take in this architectural masterpiece, the colorful gemstones and the minarets that lean slightly outwards (in case they collapse, they will fall te other way and wont hit the Taj).
P.S. For even better views and a very quiet way of enjoying the Taj -without busloads of tourists that is – take a cab to the other side of the river at sunset. Beautiful light, so also a great picture spot.
P.S. 2 We stayed in the ITC Mughal Agra Hotel. A bit more expensive than the average in Agra, but with a nice Tandoori restaurant and an amazing award-winning spa (try one of the massages).