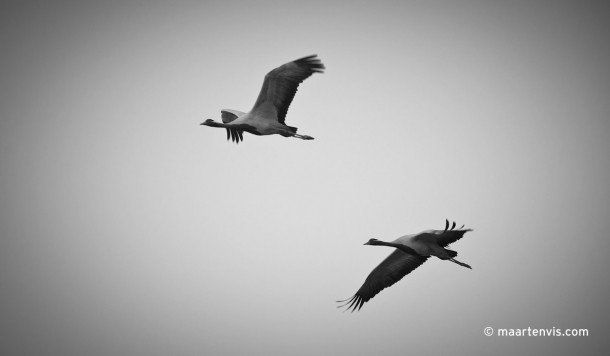 When you travel as much as we do, you always think in lists. We enter a hotel we say: "Does this go in our Top-Ten-List or not?" And sometimes you do or see something and you immediately know: Top-Three-Forever. Some things never make any list (if we don't like it, we wont write about it). And then there are things you can't really compare with other things. They usually go in our Must-See-List. These lists don't really exist of course, but it's nice to rate things and talk about it and most of all, to try and top these imaginary lists by visiting new places.
On this list you'll definitely find the he Demoiselle Cranes at Khichan. Khichan is a little village some 1,5 hours from Jodhpur where thousands of Cranes make their pit-stop during migration each year. These Cranes are originally from Mongolia and fly over the peaks of the Himalaya twice a year when the seasons change. Many of them die of hunger and fatigue and so the villagers of Khichan started to feed the birds with birdseed. At first there were a few, but now they feed close to 10.000 cranes from August till March. The sight is amazing, almost surreal, and their high pitched trumpet calls give it a little Hitchkock feel to it.
P.S. On travel pages it says the place is crowded with tourists and bird photographers, but we went in February and we were only with a handful of people. Also, make sure to go before sunrise so you can see the cranes arrive to the feeding space.