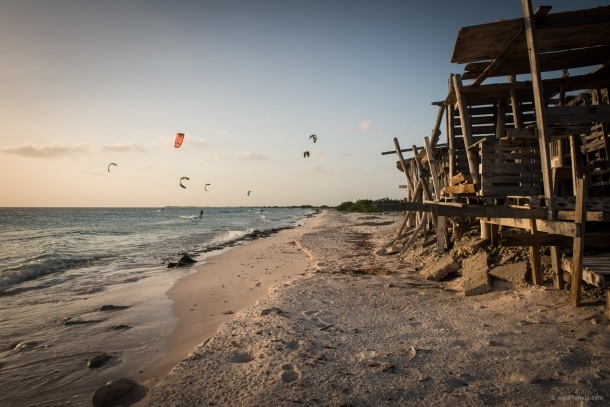 Even if you're not into water sports, a visit to Atlantis Beach – the place to kite on Bonaire – is a must. The white sand, turquoise waters and gazillion kites in all shades of neon resemble a slow-motion movie, one we couldn't keep our eyes off. The jumps some kiters make are incredible, some going really really high, and the speed with which they surf the water is amazing. According to some die-hard kiters, we were visiting when the wind was not that strong. Can you imagine the sight when it is at full speed?
Our advice: visit the beach right before sunset, order a beer and a burger at the Hagen's Burgers bus- they say this is where you'll find the best burger of the island – pick a spot in the sand and just chill.
Are you more into wind surfing? Make sure to visit Lac Bay or Sorobon Beach on the other side of the island.