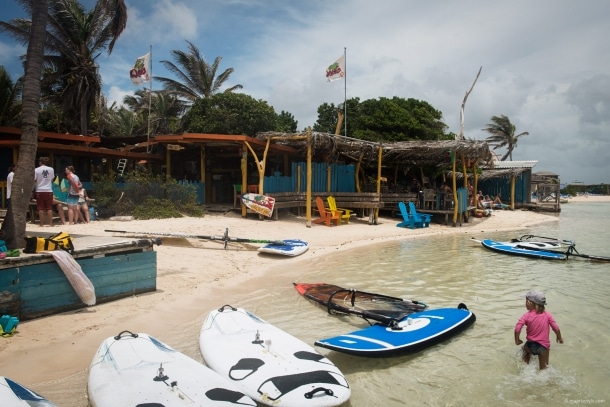 The wind in your hair, the water beneath you…surfing certainly gives you that feeling of freedom. (Even if you're really bad at it.) Luckily at Lac Bay, right next to Sorobon Beach, it's quite easy to learn. The water is very flat and quite shallow, so it's easy to get on and off the board without getting too tired. And if you're done or don't feel like trying yourself there's stil plenty of reason to visit this place.
To try the delicious Dutch apple pie at the Beach Bar.
To just sit with a book and enjoy the views.
To gape at the surfing champions – a lot of them are either from Bonaire or train here – speeding by.
To gape even more at freestyle surfing hero Caesar Finies who knows a trick or two with his gear.
Or, to just swim and enjoy the lovely water, we certainly did!
If you're more into Kite surfing, Bonaire has the perfect beach for that too! We'll tell you all about that tomorrow…