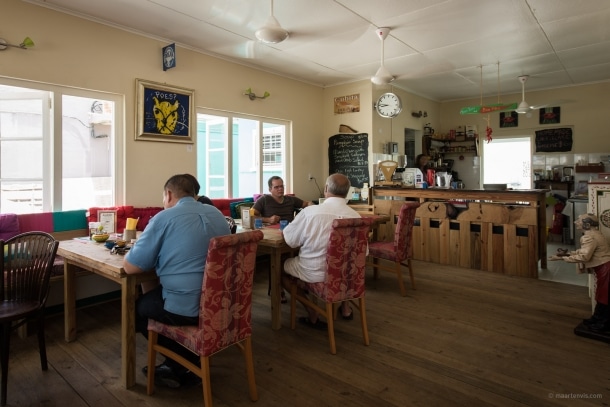 Fish, iguana or BBQ feasts: it's easy to taste good food on Bonaire, but finding the perfect breakfast or lunch spot is a little harder. If you're looking for a healthy breakfast or lunch we know where you should go: Bon Pika. The name suggests you'll find some peppered dishes on the menu, but it's also a cheeky referral to the good sin in Papiamento.
This cute little bistro is run by two women who do everything themselves. They cook, they import special ingredients from all over the world and they decorate the place themselves (We loved the colourful cushions and art on the walls). Try one of the pancakes, cheese sandwiches, home-made soups or if you're really hungry opt for the dish of the day: usually a fish or meat platter. If you like spicy, there's enough on offer too, varying from medium to on fire (indicated by the little pika's on the menu).
We tried a brie sandwich with a home made sauce and a baguette with spicy chicken. Yum!