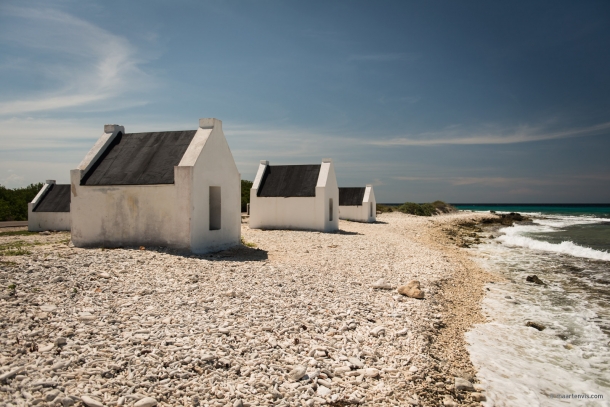 Of course you can hike, bike or take the car to explore the beautiful island of Bonaire, but we found an even cooler way to do so. With an Asian tuktuk from Bon Tuk. This electric vehicle takes you on a private eco-tour over the island. The big plus: it's got a zero emission built in engine, so it's not only clean, but soundless too. Perfect if you want to get close to animals without disturbing them. Oh, and even a bigger plus: the cars are open, so even if it's over 30 degrees Celsius outside, you will be treated to a cool breeze and fresh drinks (available on board).
Bon Tuk's Dutch founder Bas van Hee took us on a beautiful tour along the south coast of the island (you can choose one of the tours on his website or order a custom tour if you prefer to visit different areas), making our first stop at the former slave huts. These small white stone huts are now a perfect picture opportunity: the bright white houses with the blue sea in the background. On the other side of the road you will see the enormous salt water lakes where chances are high you'll spot a flamingo (they say that between 2000 and 7000 flamingos reside here, depending on the season of course).
A bit further along the route you will make a stop at the lighthouse, which in itself is quite beautiful, but the rough cliffs and sea are even prettier. Hike your way over to the shore and get a good taste of that salty water. Very refreshing.
Finally you will explore the Lac Bay area before you head back along the main road. Passing the gigantic salinas and salt mountain peaks. We were lucky enough to catch them right before sunset, giving the whole scenery an even more surreal pink glow. And as a perfect ending to this day, make sure to make one last pitstop at Tiamo Beach. Not only will you see a nice sunset (see below), but on Saturday nights you'll also find artist Fred here with his Land Rover Defender-turned-snackbar called Kentucky Fred Chicken. Fred has the best smoked chicken and salmon on the island, which he makes in a smoking oven that's attached to the back of his car.