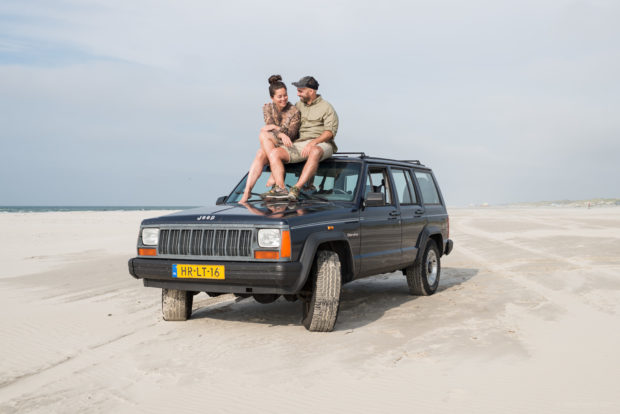 Cruising Terschelling North Beach by 4wd.
Driving Terschelling North beach was one of the highlights of our visit. The sea and the beach can give you that perfect sense of freedom. An empty beach – and a really big one like Terschelling North beach – makes you feel as if you're all alone in the world. Terschelling has the most amazing, beautiful, broad beaches, that almost seem endless. We love to go off road and drive and explore these vast empty beaches. Last time we drove for close to an hour* and didn't see anyone, apart from lots of jellyfish in every colour of the rainbow.
I measured Terschelling North Beach once while on a run. From the dunes to the water it's almost 450 meters in some places. That's one big beach!
Oh and I didn't tell you about the colours yet. They are amazing. It's almost as if there's this perfect filter over everything you see. The pale green grass, the soft beige sand and the bright blue water that turns soft grey depending on the weather. You can stand still on one point and look at a different scenery every few seconds. Thats's what you get on an island: the ever-changing weather, clouds forming one minute and disappearing the next and the light making you wish you were a painter.
What you need.
Of course hiking is fantastic here, but driving on an empty beach is really special. What you need: a four wheel drive (which doesn't mean you don't get stuck in the sand – thanks to the lovely couple who helped to push us out). And a permit that allows you to drive here in low season. During peak season it's not allowed because it's too busy and too dangerous.
Don't have your own four wheel drive? There are lots of other options to enjoy driving on the beach. You can rent a Jeep or Landrover or – even better if you're traveling with kids – book a horse and carriage tour that takes you through the dunes all the way to the beach. More about that next time!
*20 km/hr….but still…
SaveSave