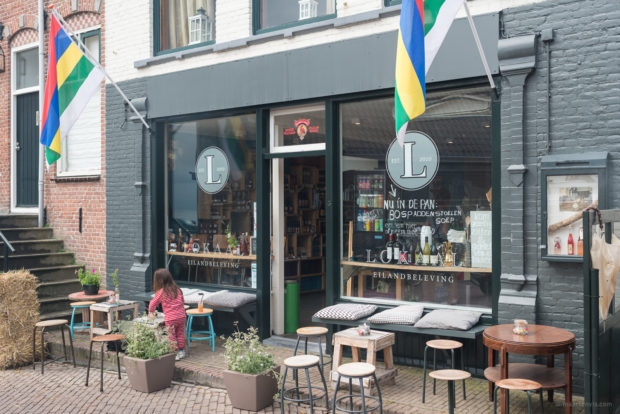 Delicious local goodies.
First stop after debarking the boat from the main land to our favourite Waddeneiland: 't Lokaal, Terschelling. This cute little cafe is located at the beginning of the main street of the village, close to where you get off the boat. It sells local produce only, from the Terschellinger beer – Schoemrakker – to delicious fresh farmer juices. And of course, the product that Terschelling is famous for – anything and everything with cranberries. From locally made marmelades to fresh homemade cakes. You've probably read about cranberries and Terschelling? Well, here is the story in short, or at least one of the stories, cause nobody really knows what really happened.
According to an old tale a sailboat once lost its shipment. The barrels washed ashore and the person who found them thought it was alcohol. He was so disappointed when instead of booze he found loads of dark red berries that he started to kick them around. Thanks to his rage, cranberries started to grow and we can enjoy lots of delicious cranberry cakes, pies, drinks and souvenirs on the island. Cute right?
The best coffee on the Island.
We arrive early at 't Lokaal, straight from the boat, with all our luggage for a quick cup of coffee (the best on the island!) before we check into our hotel. Usually, instead of just a quick coffee, we end up staying well into lunch. If you try one of the sandwiches you'll probably agree with us that it's all very yummy. No time to sit on the terrace and watch people going to and from the boat? They also serve things to go, like a delicious homemade granola with Greek yoghurt and….yep….cranberries. Or how about freshly smoked mackerel for lunch? Delicious!
We've visited Terschelling many times as you can read here, here and here. Biking around on the island, hiking or even driving on an empty beach never gets boring. Read all about it next time on our blog!