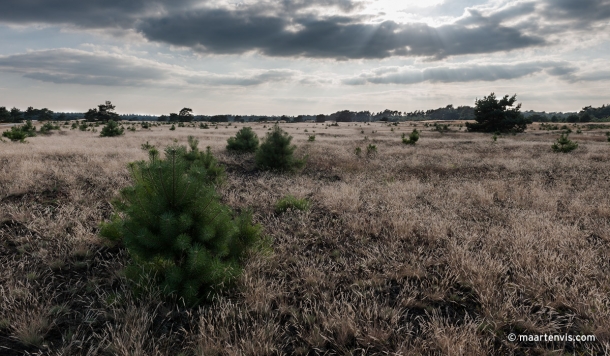 I always feel empty when the summer holidays are over. you're back at home, behind your computer, doing laundry and other boring every-day-life stuff. This weekend I suddenly had an idea. Why not take a daycation in our own country? So we headed towards a precious piece of The Netherlands: De Hoge Veluwe. This national park is in the east of the country and is known for its wildlife, beautiful nature, the famous Kroller Moller Museum and the free white bicycles.
These bikes are everywhere in the park. You can just grab one and start cycling, leave it at another spot and take another bike when you feel like biking again (of course this system only works if people DON'T use a lock they brought from home to secure their bikes, Aaargghh!) Anyway, we started at the Kroller Moller museum which houses more Van Gogh's than I could remember: The Potatoe Eaters, The Cafe Terras at Night and his famous Self-Portrait are among them. And there is a huge collection of other famous artists like Mondriaan, Pissarro, Israels and Picasso.
After the museum we went for a bike ride (route 1) to "Het Jachthuis Sint Hubertus", a beautiful house designed by architect Berlage. It's got some amazing features and is said to house the first elevator ever built in a house in The Netherlands. Having a picnic opposite the house overlooking the pond with beautiful waterlilies in full bloom is a great break from all the biking. Pedalling back we crossed some amazing sights: small secluded ponds again filled with waterlilies, woodland with gold grass in between empty plains that resembled the savannas of Africa. Wow! I never realized our country is this beautiful! Read all about our second bike ride tomorrow!