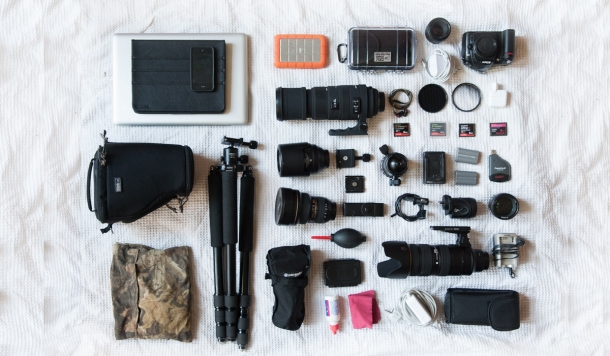 It's a little quiet on the travelling front so I thought it might be nice to write something about the gear I use for my travel photography. Let me start by saying that obviously you DO NOT need the ridiculous amount of stuff I use. But having said that, it is nice to have a backup plan when something goes wrong and you're in the middle of nowhere.
I am a Nikon user. I started out six years ago with the d50, moved on to the d80, then moved up to the wonderful D300. But I wanted a full frame camera so two years ago I bought the Nikon d700: I love this camera. One of the best features is it's great high ISO quality and that is very useful in the often low light conditions of travel photography. At the moment I can only dream about the D800…
I always carry a tripod. Always. Like most photographers I have a love/hate experience with it. I have used the Feisol Tournament tripod with a CB30 ballhead for a few years now. (The CB50 is bigger and heavier, but not much better in my opinion) The tripod is not too pricey, compared to major brands like Gitzo and Manfrotto. It is a very light setup and it can carry a heavy load. But I have had some issues with it and I fight with it all the time. So if you have a better suggestion, I am all ears.
When traveling I always take these lenses:
The Nikkor 14-24 mm 2.8. Great for wide angle shots but can quickly become too wide. Get close.
The Nikkor 24-70 mm 2.8 for almost all general purpose stuff.
The 70-200 mm 2.8 for portraits and shooting from a bigger distance.
Combined with the D700 and the tripod these lenses are sure to give you a hernia. If you want a lighter (and less expensive) setup I would recommend the sigma 10-20 mm 4.0, the tamron 17-50 2.8 and a nikkor 55-200 4 vr . Lately the all purpose super zoom lenses have become very popular, but I don't believe these lenses are up to what I want to achieve, so I wouldn't recommend them.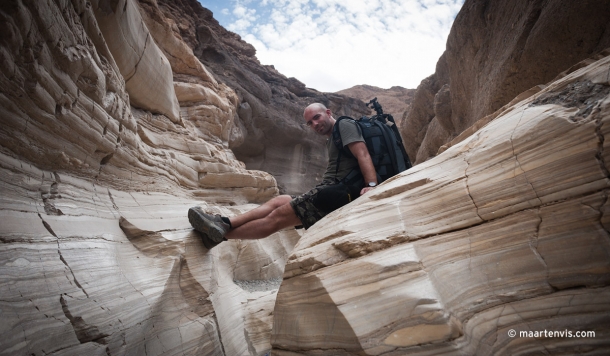 I would also recommend some good hiking shoes when travelling, like the Keen ones I am wearing in the picture above, combined with a good quality backpack that you can strap on properly. The Tamrac Expedition 7 you see above is great, but quite big for sane people. Believe it or not, but ALL the stuff in the top picture fits into this backpack. I always bring my North Face Hoody (pictured below) and a water resistant wind breaker for cold and rain.
In the city I like to wear Palladiums ( also pictured below) to walk around in and I usually only carry the 24-70 2.8 lens in a very handy Think Tank Holster Bag. But of course the bloody tripod has to come along as well in a separate shoulder bag. I am still looking for a handy city bag to carry two lenses and a tripod.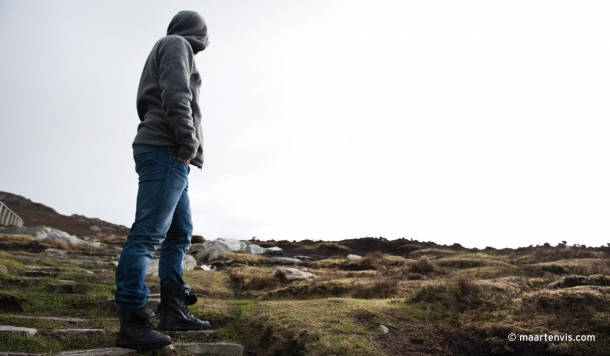 For the completists: here's a list of all the stuff pictured in the top photo:
Macbook pro
iPad2
iPhone 4s
Lacie Rugged Harddisk
Vosonic Image Tank – A great tool to backup all your cards and data when you are in a remote area without electricity. The battery lasts for ages and the RAW display is great as well.
Nikkor 50 mm 1.8 lens
iPhone Charger
Nikon D80
Sigma 150-500 mm telelens – a great affordable lens for shooting wildlife.
Sennheiser Headphones
B & W Circular Polariser – a polariser is an absolute must for any landscape photographer.
B & W ND Grad Filter
Several Compact Flash Cards
Think Tank Holster Bag & Pacsafe strap – This strap has iron cables inside so evil people cannot cut it and run off with your camera.
Feisol Tournament Tripod & CB30 Ballhead
Nikk0r 105 mm 2.8 VR lens
CB 50 Feisol ballhead & QR Plate
Nikon Battery Charger & Several batteries
Calumet Compact Flash reader
Nikkor 14-24 mm 2.8 lens
Leatherman Wave – if you've seen 127 hours, you won't 'go for the cheap Chinese version'.
Universal Travel Adapter
Nikkor 85 mm 1.8 lens
Stealth Gear Double Bean bag – a great tool when a tripod is not an option, for instance on safari or on a boat.
Pacsafe metal backpack wrap – if you want to sleep soundly without getting robbed on a bus or train ride this is a great solution.
Water resistant box for Compact Flash Cards
Nikkor 70-200 2.8 VR2 lens
Cleaning Fluid and microfiber cloth
Hahnel car charger for Nikon batteries
Nikon SB800 flash
Lat but not least: Remote shutter cable (not pictured) – my favourite gadget: to avoid camera vibration you use a little cable to fire away. Very cheap as well.