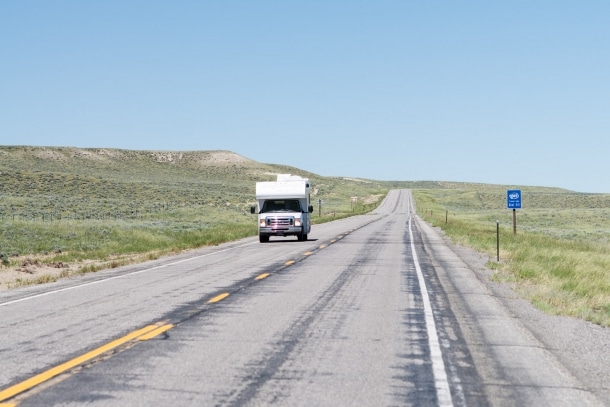 As you can see here and here, we love road trips! Road trips in the USA are the best and last spring we finally toured between national parks that were on our wish list for a long time.
Earlier we told you all about Denver, our starting point and the place where we picked up our RV. Since it's over 530 miles to Yellowstone from Denver, we decided to cut the trip in three. For the first part we followed the Route 25 from Denver to Fort Collins and from there the Route 80 up to Elk Mountain, Wyoming. Normally this will take you a little over three hours, but with an RV (and a 1-year old) you can easily add an hour. The route is amazing and as soon as you exit the busy roads around Denver you'll see nothing but never-ending hilly fields.
We spent our first night in Elk Mountain, a small town with a population of 192 people. (I think that's our street alone in Amsterdam!) They do have their own post office, and when I went in there to buy some stamps there was one other guy in line behind me. The woman behind the counter was thrilled because it hadn't been that busy since Christmas!).
You can opt for the Historic Elk Mountain Hotel (their info guide says it's haunted – I wish I hadn't read that right before I tried to go to sleep) or ask one of the 192 people if you can park your camper in their garden for the night.
Next stop: Wind River Canyon!