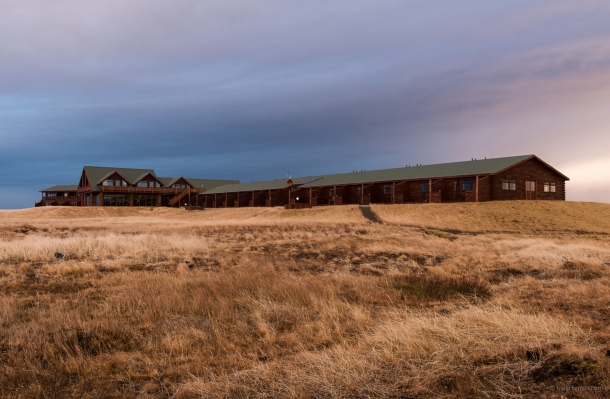 We're very lucky our work takes us around the world, making it possible to stay in the most amazing places. From tree houses and romantic getaways to resorts with views that blow us away and B&B's we want to live in. After our trip to Iceland (yes, again. We fell in love with this country a few years ago) we have another favourite we can add to our list: Hotel Ranga in Iceland.
Our Icelandair flight from Boston touched down at 6.10 a.m. It was cold and snowy and we could hardly see a thing when driving the 140 kilometers over dark icy roads. Just when it got a little lighter we spotted the hotel sign next to the Ring Road in an open field. The driveway, a few hundred meters down the road, led us through grassy plains that seemed to go on forever. You'd expect total silence this early in the morning, but with all the outdoor activities that Iceland had to offer, people were ready to hop in their 4 wheel drive and explore the rugged landscape, gigantic glaciers and black beaches close to the hotel.
We fell in love with this resort the minute we stepped in (that "cute little" white bear definitely helped). The interior is warm with lots of wood, local art and carpets in soft warm hues. The staff is super friendly. And with a gourmet restaurant offering 4 course meals – mainly Icelandic recipes made of local produce – it stole our hearts. Oh and let's not forget: the huge bath in each room. The fresh waffles at the breakfast buffet. The hot tub right outside our patio (perfect for winding down after a challenging off-road experience). The owner who will make his rounds every night during dinner, giving people advice on where to go and what to see. And then there's the northern-lights-wake-up-call, making sure nobody misses this natural wonder. But more about that later….
If you're traveling to Iceland make sure to spend at least a night here. We loved our cosy room, but if you're looking for something grand, stay in one of the themed suites.