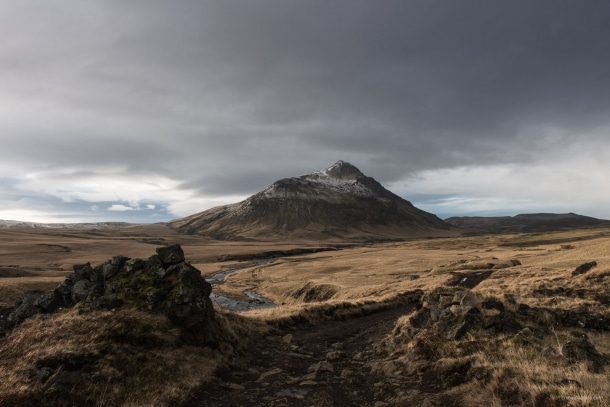 Let's start by saying that Iceland is one of the best destinations for road trips. there's no road that doesn't lead to a waterfall, glacier, black beach or other natural wonder. Of course you have different types of roads: primary roads and highways (S roads), Private roads (H) and mountain roads accessible for any type of vehicle (L). And then there are the F-roads: unpaved tracks that may only be driven in vehicles with four-wheel drive.
We rented a four-wheel drive and started our journey on the muddy and icy tracks of the F210. At first it wasn't that bad. Yes, the road was narrow and unpaved, rocky even sometimes. But the further we drove the rockier it got. Sometimes it was hard to distinguish the road in the rugged landscape as tracks were nowhere to be seen. Google maps didn't even show any road where we were driving and with heavy weather coming our way (and me being 8 months pregnant) we started to get a little nervous. We could either go back – knowing we had to pass some slippery, rocky bits again. Or go on, not knowing where the road would lead us. We decided to turn (quite challenging as well) and drive the same way back, passing beautiful fields with horses, the Mount Hekla volcano (shown above) and a mountainy stream partly frozen and glistening in the winter sun.
Later we discovered that all F-roads are closed during winter (when we were there) and not even accessible with the right kind of car. Check this map for Icelandic Road Information before you plan your trip or park your car and hike instead!