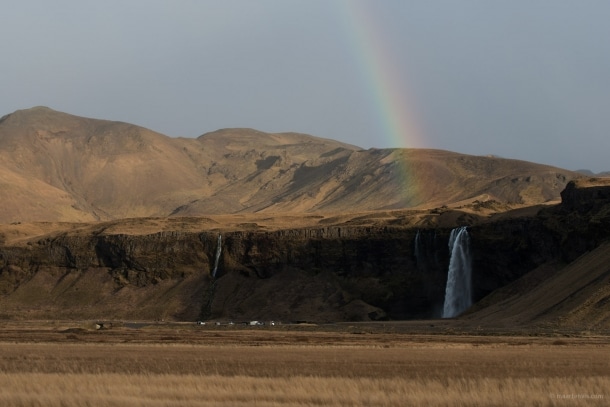 We were chasing rainbows when we spotted one of the best known waterfalls near the south coast of Iceland: Seljalandsfoss. With its 65 meter high drop it's almost impossible to miss when driving on the Route 1 ring road and with rugged green cliffs in the background it has been a calendar favorite for quite some time now. Definitely make a photo stop here. And if you dare – and it's not too freezing outside – walk the slippery path behind the fall.
P.S. We never found that pot of gold. Catching both the rainbow and the waterfall in the same frame was satisfying enough for us….
P.S. 2 Have you seen The Secret Life of Walter Mitty yet? Iceland plays a leading role in this movie and some scenes were shot in the south.
P.S. 3 If we're ever to publish a fantasy novel, the image below will definitely be on the cover. Unless George R.R. Martin contacts us first of course.