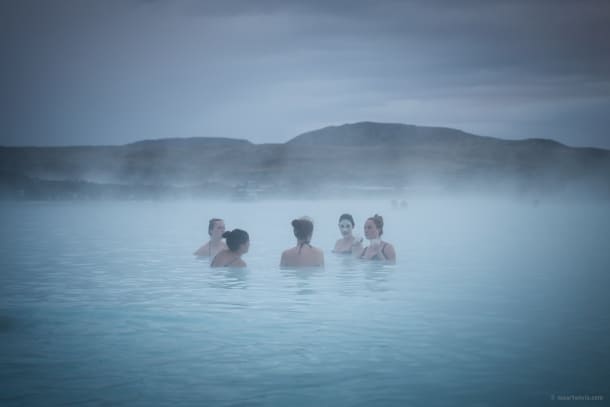 The Blue Lagoon is a must-stop when visiting Iceland. It's one of the most popular tourist destinations and once you've dipped your toe in the warm – and sometimes hot – water, you will agree. We do. Not only is the geothermal water good for your skin (the water is rich in silica and sulphur and said to help soothe psoriasis) but it's an amazingly relaxing experience as well. I always thought the lake was natural, but it was created after people discovered that the waste water from a nearby geothermal power plant had healing powers. They now use the same water from the power plant, only in a bigger pool.
Swimming in water that's a bit higher than your body temperature, while it's freezing cold outside feels good. Doing so when it's dark outside is even more special. Order a drink from the in-water bar, swim in the bright blue water and cleanse your skin with a volcanic mask. If you're not afraid of freezing temperatures step out of the lake and take a walk around to enjoy the beautiful scenery.
Some travel advice: Early mornings and late nights outside the weekend are the best times to visit if you like some peace and quiet. Plus The Blue Lagoon is only 13 kilometers from the airport, so if you have a stopover with Icelandair and some spare time it's a very warm and welcome alternative to hours spend in an airport lounge.