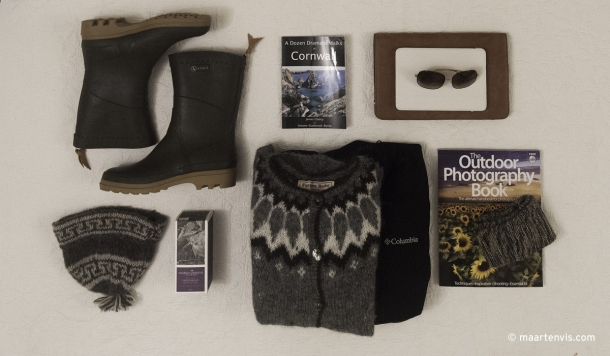 We get a lot of emails from our readers asking us: what do you pack when you go backpacking in India, hiking in Mallorca or road tripping from Vegas to San Francisco? That's why we decided to show you, every now and then, our must-pack list. Starting off with our latest trip to Cornwall. Apart from your usual basics, here are some things we couldn't do without:
A decent pair of wellies. A must when conquering the rain in Britain, especially when you're doing a lot of coastal walks (those paths get muddy!) This trip we took our Aigle boots.
A warm knit. Preferrably one that you picked up during a former travel. Like our favorite sweater from Iceland, a hat from the Himalayas and gloves from Amsterdam.
A protective jacket that will keep you warm. We love the soft shell Columbia jackets: they block wind, keep you warm and dry and don't take up a lot of space in your luggage. Perfect for any season.
Our Macbook Air and iPad mini. Simply because work never stops but also because we love to travel light. Especially the iPad (mini) saves us a rough 10 kg on books and magazines.
Sunglasses: you need them to protect your eyes from the sun or to cover your face after a heavy jet-lag. Again, we love to travel light and these Oliver Peoples sunglasses are not only lightweight, but fashionable as well.
We prefer to buy local hiking guides. The routes are more original and the stories and details are always lovely.
Reading tip: stuff your iPad, E-reader or suitcase with classics that have a link with Cornwall, like: Rebecca by Daphne the Maurier, The Shell Seekers by Rosamund Pilcher and Poirots Early Cases by Agatha Christie.