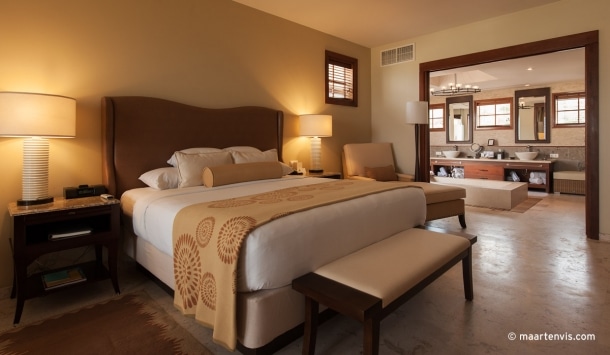 We just got back from an amazing trip to Curacao. When you dream of the Caribbean you probably have a whole line-up of cliché images in your mind: the azure blue sea. Warm winds rustling the palm trees. Soft sandy beaches. Colorful houses. And probably your self – eyes closed on a sunbed. All true. And it gets even better…
Add a peaceful, relaxing, grande and amazing resort and your holiday is as super as you want it to be. Stay in the Santa Barbara Beach and Golf Resort for a few days and everything else that follows will be mediocre.
What I loved the most about this place is the lounge. As soon as you enter – jetlagged or not – the high ceilings, open air lobby and cane ventilators providing fresh slow-motioned breezes will bring you into that perfect holiday mode. A Pina Colada, chilled rooms with XL beds and sunbeds just touching the turquoise water make it even better. If you decide to leave the resort, you'll be surprised by its beautiful surroundings. The resort is located in the Santa Barbara Plantation Area, featuring white rocks, cactuses and great views over the Spanish Water Bay. Plus there is one of the most beautiful golf courses we've ever seen. But more about that later.
Our readers always ask us: where did you book your trip? Or how can we have that exact same experience you had? Well, this time we made it easy for you. Especially for our readers we can offer a fantastic trip with lots of extras for a perfect price. Check the offer below.
Special package deal to Santa Barbara Beach and Golf Resort by Fish & Feathers:
✦ 8 = 6 (2 nights for free with a minimum stay of 8 nights) * free breakfast buffet * Free room upgrade to Partial Waterview room
✦ Exclusive for readers of www.fishandfeathers.travel
As an extra feature, we offer readers of the Fish & Feathers travel blog a free 30 minute Swedish massage in our beautiful and relaxing Atabei Spa with complimentary coffee, tea, free use of private relaxing area with rain shower, outside patio and views of the Caribbean Sea. Also free use of bathrobe, fit flops and scrub salt.
Price Fish&Feathers-readers get two nights for free, complimentary breakfast, a free room upgrade, all calculated in the following offer: Departure 15.1.13 – 15.6.13 from €1016 p.p. valid if booked before the 28th of January. All bookings made after the 28th of January or with a departure after the 15th of June 2013 are from: €1178 p.p.
Included: Flight with KLM (V-class), airport tax € 354, transfer and 8 nights including breakfast. Not included: possible fuel surcharge, calamity funds and reservation fees.This offer is valid on bookings made between January 23rd and February the 28th and for a stay between the 23rd of January and the 15th of December 2013.
Bookings terms & conditions: 34Free special and bookings code FISHNFEATH
Reservation: Via Does Travel & Cadushi Tours l via 0031- (0)70-3129595 or tour@doescadushi.com More information: www.caribbean.nl