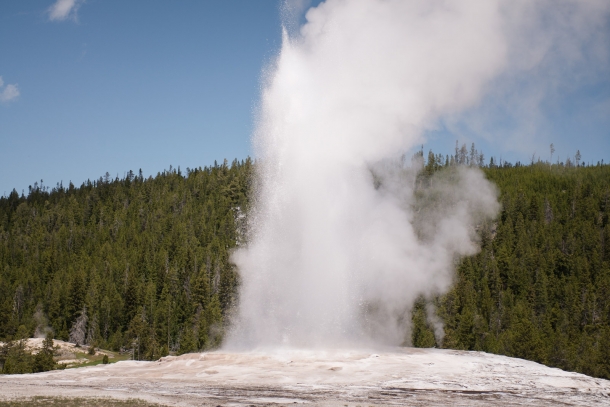 You know what they say: Nature is unpredictable. Well….check the Old Faithful Geyser in Yellowstone National Park. For over 75 years this geyser has been erupting every 60 or 90 minutes or so. It's one of the highlights of the park and quite a touristy one, but it's still a spectacular sight to see the water shoot up over 50 meters!
Again, try to get there early, find yourself a seat and wait in anticipation for this natural fountain to do its magic. Afterwards, enjoy a lunch in the Old Faithful Inn, the largest chalet in the world that was built in 1903. It's really really big, but super cosy! I can only image what it must look like during Christmas in the snow (oh wait…they close in October for the season…well still I think it would be the perfect place for a winter wonderland holiday!).
So what's next? Well, after lunch you can head to the Grand Prismatic Spring – another highlight – that's not too far from the Old Faithful. But…more about that next time. If you feel like doing a short hike, check our previous post here.