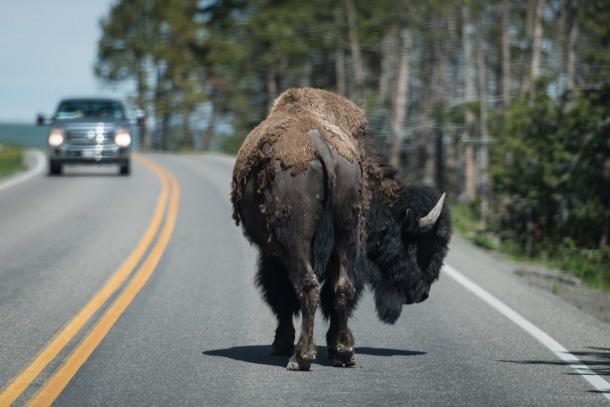 Visiting Yellowstone National Park has been on our list for ages, so we were thrilled when we got the chance to drive around Colorado and Wyoming in an RV and visit this beautiful part of the world. Yellowstone is one of the most popular National Parks, so when you visit during peak season be prepared for traffic jams, occupied campgrounds and lots of buses. In order to enjoy everything this park has to offer – even during high season – here's our advice:
Make sure you get to all the hotspots early. Especially West Thumb Geyser Basin, The Old Faithful and Grand Prismatic Spring. Also, even if it is busy when you get there and it takes some time to find a parking spot, the beauty of these places will make up for it, promised.
Get off the beaten path. Some places are super busy, because they are really beautiful, but as soon as you go on a hike you'll leave the masses behind. We only ran into one other couple during this short hike and our favourite hike to Clear Lake (which we will tell you all about later).
Instead of staying on one campground, plan your round trip well in advance and stay on different campsites, making the drives to all the highlights a lot shorter. Also, Fishing Bridge might be the only campground that has water and electricity hookups for RV's, but we thought it felt a bit like a big parking lot. Next time, we would prefer to fill up our tank, charge our batteries and stay in more natural and quieter places.
Try to visit the park right before peak season, like we did. And remember: Yellowstone is so big, that no matter how busy, you'll still get to enjoy the beauty of it!
P.S. Can you spot the bear?