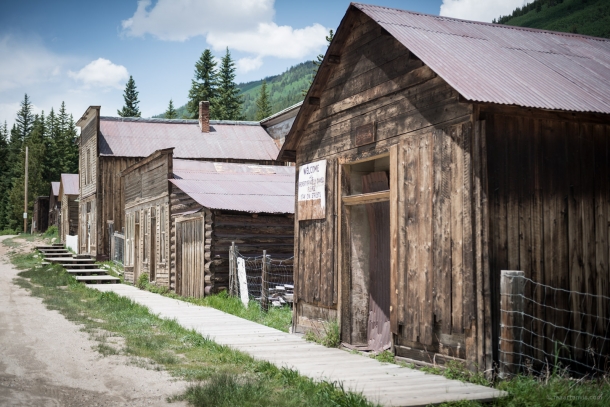 Always wanted to visit a ghost town? St. Elmo is one of the most beautiful ghost towns of Colorado where most buildings are still intact: from the general store, to the post office and a school just off the road. One can really imagine what life must have been like around 1900, when over 2000 people settled in this tiny village, trying to get rich fast, in search of silver and gold. There was even a railroad built especially for St. Elmo, but that shut down nearly 100 years ago (in 1922), after the mine was closed. Postal service was discontinued in 1952 after the death of St. Elmo's postmaster.
Just like you would expect from a ghost town, St. Elmo has its very own ghost…if you look through one of the windows you might spot her. Scary, right?
Some buildings are being used now as shops, like the General Store where you can buy souvenirs, ice-cream, drinks and some interesting antiques. Fun for the kids: buy some seeds and feed the very cheeky squirrels opposite the store.
After hiking in Yellowstone, relaxing in Jackson and visiting this ghost town we drove back to Denver…more about that next time!