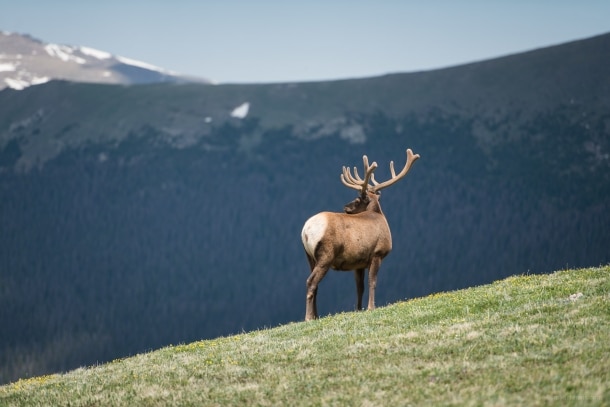 If you love road trips like we do and are always looking for the most beautiful route, you MUST visit the Rockie Mountains. Trail Ridge Road aka the Highway to the sky in the Rocky Mountain National Park is amazing. You drive passed lakes, and pine and spruce woods and when you pass the treeline there is nothing but beautiful tundra (covered in snow if you're lucky) and bends so high up in the sky you wish your camera could snap 360 degree shots non-stop. Fortunately there are enough parking and picnic areas, so you can get out and take in the view. In most cases, you'll be surrounded by the imposant Rocky Mountains. And if you take your time and wander from the parkin lot a little bit, you might run into a deer (we're not the only ones enjoying the views here!).
It's only 77 kilometers from Estes Park to Grand Lake, but with the bends, the climb (the road takes you to 3700 meters high!) and the photo stops, you'll take at least half a day. Oh, and one last piece of advice: bring a fleece or something warm, it gets really cold on those windy stops!
P.S. Visiting Rocky Mountain National Park with young children? Make sure to book a ranger-led tour where they can learn and explore from the trees, bushes, rocks and animals. Our 1 year old didn't really participate, but we loved the games and drawing at the end!