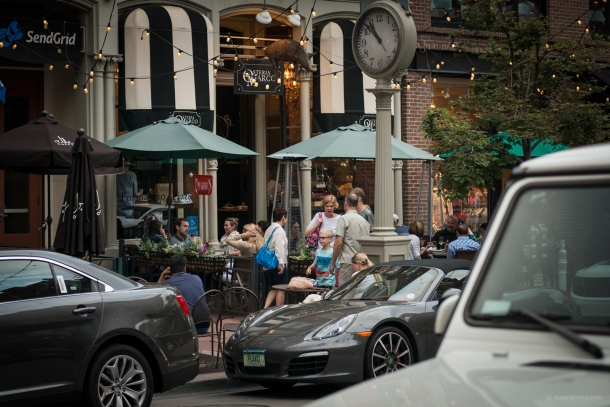 A must: Larimer Street Dining…
I remember when we first drove through downtown Denver (with our huge RV) the first thing I spotted were the little lights of Larimer Street. I didn't know the name of the street yet, but I could see all the restaurants and terraces and knew that's where we had to go and have dinner that night. when I was googling the area later from our hotel room (the Curtis, right around the corner!) it said that it was the best place to go and eat at "regionally exclusive and chef-owned restaurants".
First of all, it looks too cute – almost Christmassy – with all the little street lights. Then there's the line-up of restaurants that all look and smell really good. Like that cute little tea- and coffee place: The Market, where you can get a perfect after-dinner espresso and lots and lots of cookies and chocolates. And the amazing Italian restaurant – Osteria Marco – where waiting for your table is totally worth it. Make sure to order the Eggplant panini filled with eggplant, mozarello and a delicious walnut pesto and the Butternut Pizza with butternut squash, pine nut, brown butter and gorgonzola. After dinner, get yourself a coffee to go and stroll the street. There's enough to see: brand new sports cars, (someone told us this is THE street show off your expensive car. Not your RV off course. ) beautifully dressed people and some very nice boutiques.
Make sure to visit this area at night, when the lights really make it a magical place. For us it was the perfect last night in a city (and state) we fell in love with. There's still so much to do and see in this area. So even though we toured Denver, visited the parks, hiked in the mountains and did a road trip to one of the coolest Ghost Towns, we will definitely be back for more!