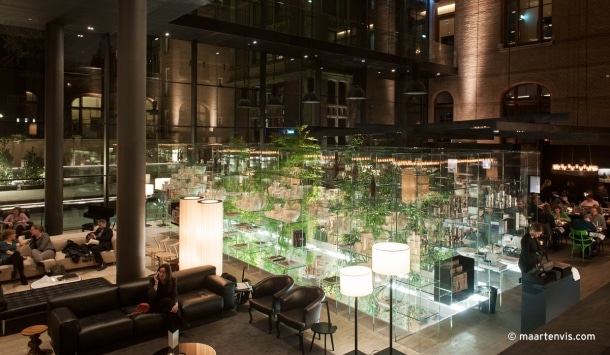 Sometimes a night away in your hometown can really feel like a weekend break in some other cool city. Last month we stayed in one of the newest, coolest and most beautiful hotels of Amsterdam: The Conservatorium Hotel. I remember I used to walk through these corridors when it was still the real conservatoire, listening to all the musical talents behind closed doors, the music slowly echoing through the beautiful arcaded hallways.
The way Piero Lissoni – the architect and interior designer- turned this school into a hotel is magnificent. The mix of old elements (check the painted tiles on the wall) with modern design and luxury make a stay in this hotel one we will never forget. My favorite place is probably the gigantic lobby in what used to be the yard: leather couches and design fauteuils give this place with a glass ceiling high up in the sky a homey feel. Plants shooting from below indicate where you'll find the spa and behind a glass bookcase you can taste the world's best blueberry pancakes.
You can spend days in this hotel without going out. It's got everything: a healthy breakfast buffet, the Akasha spa (do try the Watsu massage! It's very relaxing and very rare to find in Europe), the Meraki haidresser with a very intesting washing ritual and perfect blow-dries, boutiques where you can pamper yourself beauty- and fashionwise, a very cool bar for late night cocktails and then there's the room of course. With – if you're lucky, like we were – views towards the Stedelijk Museum right across the street. A glass of wine and a few hours of people watching can be very meditative and all you need. If you do feel the need to go out, don't worry, the outside world is just as interesting with the Museum district, the Vondelpark and high-end shops right around the corner.