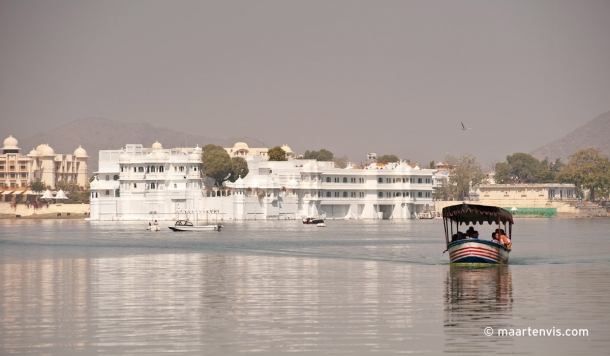 Almost two years ago we visited Rajasthan, India. By that time I had been to many places in India, but somehow the season was never right to visit this part of the country. Even though, deep down I knew that I would love this area the most. I had heard of the floating gardens filled with mango trees, bougainvillea and fountains, palaces decorated with a thousand little mirrors, princesses dressed in bejeweled silk sarees, colored glass jewelry and beautiful colors. So when we finally decided to go, I couldn't wait. From all the major cities I fell in love with Udaipur. The City Palace with it's crystal collection was superb. (Ok, normally I wouldn't get too excited about some old crystal glasses, but the Lonely Planet's description of the must-see bejewelled carpet persuaded me. Unfortunately the carpet was in London for some big India Exposition. Bummer.) Even nicer; The Lake Palace hotel aka the drifting white mansion where they recorded James Bond's Octopussy.
These places make you wish that time traveling would be possible…
P.S. Click here to see more images of Udaipur.