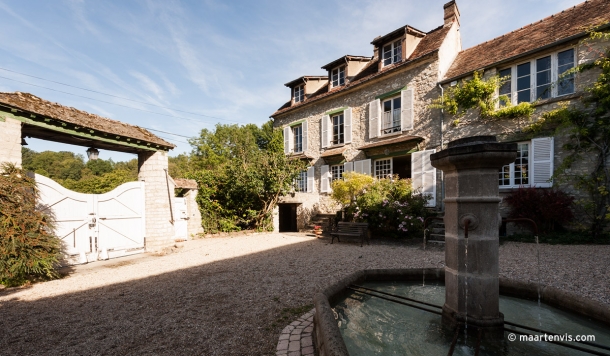 Sometimes you find a place and you want to keep it all to yourself. It's so perfect, so romantic and so beautiful you don't want others to spoil it. At the same time, you wish you could tell the whole world what you've stumbled upon. You want to let them know they have to see this for themselves. That's exactly what I thought when the old wooden gates to Le Domaine the la Goulee opened before me. It was a Thursday evening. We had been driving for hours and it was pitch black outside. Our GPS told us we were close to our destination but there weren't any lights in the distance. Nothing that was telling us a little village was close by. And then, suddenly we arrived at this old farmhouse in the middle of the night and we could hear a fountain and the barking of a dog.
As soon as the gates opened we entered what could have been a movie set for Chocolat II or some other film set in the French campagne. A courtyard filled with flowers, beautiful lights and a fountain welcomed us, together with the owners of the hotel Sophie and Jean-Pierre. It's hard to believe Paris is only 45 minutes away.
We were booked in the Monet room, which was very suitable since we were in the area to visit Giverny, the house and gardens of Monet (more about that tomorrow). Jean-Pierre and Sophie – who have a great eye for style – together rebuild and decorated each room with the artist and his works in mind. The cosy living room was blue, just like Monet's kitchen. One bedroom yellow, like his dining room. And his paintings (copies of course) were hanging on the wall. The 2008-Bordeaux, the bread and cheese they gave us as a late night meal and the home-made breakfast in the morning were perfect. But most of all, it was the owners and their stories that made this stay so special to us. We will definitely be back!
P.S. Next summer the farm will have a family dorm and reception area in the courtyard that will make this place the perfect location for your wedding!