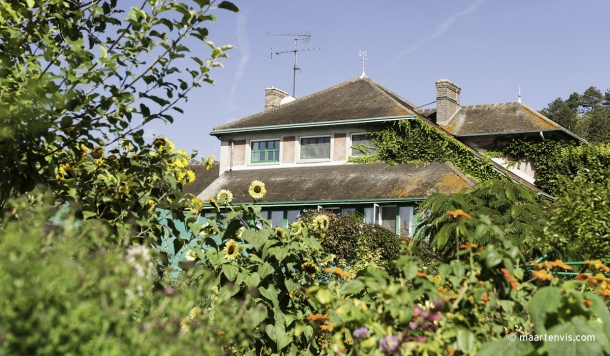 It's always special to be "in a painting". If you stand in Claude Monet's gardens in Giverny and look at the green bridge and blossoming waterlilies you can see what inspired Claude Monet and sort of feel like you're part of his Nympheas. Did you know he bought an extra piece of land opposite his house just so he could have his own Japanese garden filled with waterlilies to paint?
It's amazing how the garden and house are still intact and draw tourists from all over the world to see where this famous impressionist spent most of his life. In every corner you see something you recognize from his work, not just the waterlilies, but also the flowerbeds in his garden with the house in the background, the boat in his pond and the corner where the Luncheon took place. (One of my favorites.)
Of course spring is the best season to go flower-wise, but we were surprised about the amount of blossoming flowers and colors in september. It's a busy spot, so try to stay away during the weekend and holidays so you can enjoy a quiet stroll around the garden and his house.
P.S. Looking for a place to stay close to Giverny? We spend the night in the beautiful Le Domaine de la Goulee. Click here to read about it.