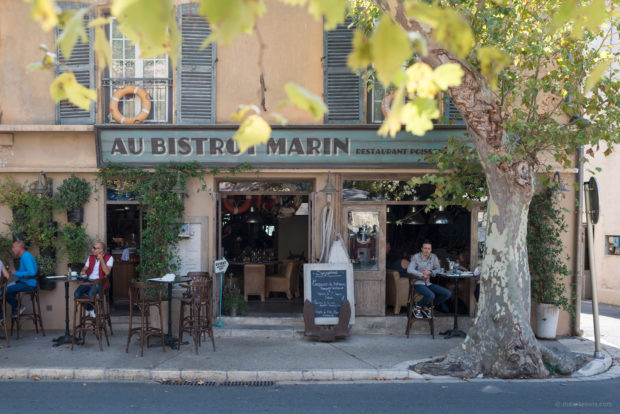 Lunch at the Village Square
When I think of a typical French square, I think of sycamore trees, a cute little corner bistro and a terrace where one might spot Marion Cotillard carrying a basket filled with fresh bread. We didn't run into Marion, but we did find a square that matched my imagination almost perfectly.
We sat down under the sycamores, the green leaves filtering the sunlight. We ordered risotto and mussels at Au Bistro Marin, drank a really cold glass of white wine – local of course – and watched an old French lady read a book on her balcony. The village I am talking about is called Maussane-les-Alpilles and is just picture perfect. Yellow houses, lavender-blue or turquois shutters and crooked roof tiles.
Surroundings
Maussane-les-Alpilles is only a 5 minute drive from the Domaine the Manville hotel by car. You could easily cycle or walk here, taking in the beautiful scenery and amazing smell of the pine trees on your way into the village. It's quiet in the morning, but during lunch and dinner, the square is filled with locals and tourists sitting down for a French meal, pizza or ice cream. Make sure to walk around and explore the alleys, the old church and the amazing details on century old houses. I loved it here…
Want to see more in this area? Check out the hotel we stayed in: with a pool, private cinema, kids art club, golf, course and two amazing restaurants. They even have their own running routes. It's one of the best hotels we ever stayed at. Or, visit the more touristy, but beautiful village Les Beaux de Provence: you'll definitely pick up some souvenirs here, like nougat, tea or lavender bags. Don't miss the hat shop in the centre of town – a hat is a great memory to bring home if you ask me. Oh and the old fort is pretty impressive as well.
Enjoy!