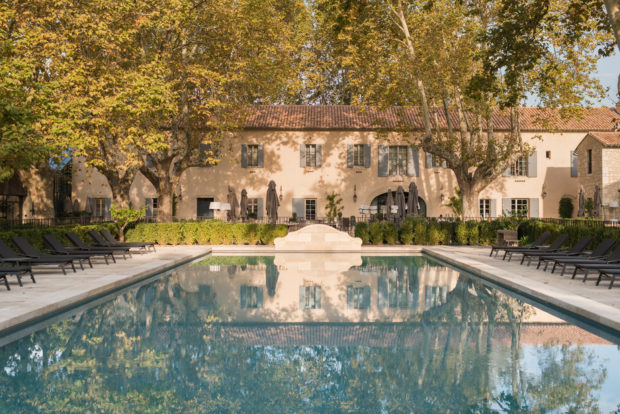 Domaine de Manville: relaxing in the Provence
The perfect escape for ultimate relaxation? Try this hotel, Domaine de Manville in the Provence. It's got it all: the looks, the amenities and the location. When I think of a hotel in the Provence I pictured it just like this. Vanilla-yellow plastered walls, lavender blue shutters and a little square complete with fountain and sycamore trees. Add a beautiful pool and a former hot house where they now serve breakfast and you've got the most charming place you can imagine.
Trail Runs and Spa Time
When we arrived they were decorating the square for a wedding dinner. So we were delighted to spot the happy couple celebrating from our hotel room balcony. Staying here makes winding down really easy. Try the spa, the indoor pool or one of the nature trails (Routes the Santé they are called.) in the surrounding nature reserve. We started our days with a trail run in the hills and ended it in fields filled with lavender and olive trees. Can you imagine the beauty and the smell?! We went straight for a swim after that and – when the whole family was awake- we enjoyed a delicious breakfast of home made breads, apricot juice, herbal tea and lots of local fresh fruit.
Trail Runs and Spa Time
The hotel offers golfing, bicycle tours and even has a cinema where you can make a reservation for your party and watch a movie on request. We watched Frozen for the gazillionth time and enjoyed bread and charcuterie afterwards. You don't really need to leave the hotel. But it would be a shame to miss out on all the beautiful surrounding villages and weekend markets. Like the quaint Mausanne-les-Alpilles or the Baux-de-Provence, known for its ruined castle and medieval houses. Perfect places for lunch, dinner and souvenir shopping. But more about that next time!