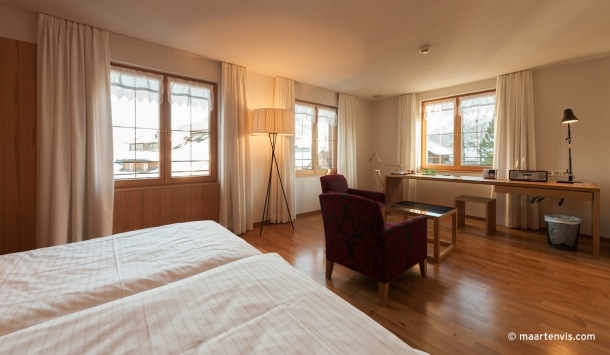 With some hotels you just immediately know you've made the right choice: we had this feeling with Hotel Krone in Hittisau. As soon as we drove up the village square and saw the typical Austrian house front we fell in love with it. It has been run by the same family since 1843 and even though the rooms have been renovated and modernized the hotel still has all the nice characteristics.
In fact, it's the perfect mix of old and new. A spacious and modern bathroom, gigantic soft beds and modern furniture in the rooms (and a cd player with a stack of classical cd's) go perfectly with the charming wooden lounge decorated with checkered cushions and an big, old fireplace. We arrived late in the afternoon and were just in time for herbal tea and home-made sweets next to this fire. Sounds perfect right?
Make sure to book your room half-board, so you can enjoy both breakfast and dinner. The cuisine is excellent and a member of the Mundart Restaurants Bregenzerwald, meaning they're specialized in an honest but high-standard cuisine. And if you want to get rid of some of these calories, you can go skiing in the area or book a snowshoe hiking trip with a wonderful guide. We did just that and loved it! But more about that next time!