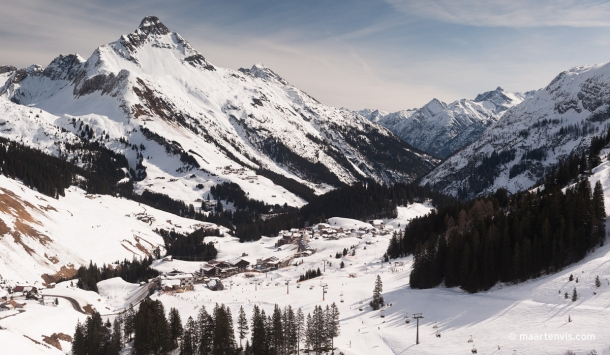 Warth is a tiny village close to Lech in Vorarlberg. It has a small but beautiful skiing area. Perfect snow. Perfect views. And beautiful pistes as far as you can look (except on that one misty day…)
Warth has 14 lifts, 68 km of slopes, (mostly red and blue, but it still has 14 km of black pistes), and it's one of the areas with the best 'snow guarantee'. The slopes are big and spacious enough for speedy racers, snowboarders or beginners crisscrossing the piste from side to side. Plus, good news for people who want to visit here next year – and you should – Lech and Warth will be connected, giving the area over 190 km of slopes. That's a lot of skiing.
What I love about this area is that it's very open. If you stand on one hill you can look in four directions and see slopes all around you. Or you can spot that perfect lunch spot down the hill and see who can get there first. Which was never me. I'm the one postponing turns and skiing from one end of the piste to the other end. Oh well, it makes me work harder and really earn that apfelstrudel and gluhwein. Cheers!