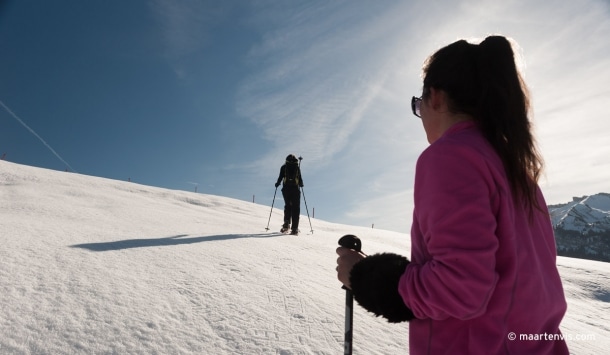 Clog, step, clog, step…it's a sunny morning in Bregenzerwald when our guide Helga from Kultur in Bewegung leads us through the mountains on snowshoes. I always thought snowshoes were like tennis-rackets, but apparently, these days, they are a lot more modern and comfortable: you just click your hiking boots in them and you're off! It's amazing how much grip you have when you wear these shoes in the snow. Steep hills you can normally never walk on become easy paths and with the help of the sticks you hold in each hand it's like a walk in the park. Don't get me wrong, it's still a heavy workout, especially without the help of a Husky…Big plus: you can hike off the beaten tracks, making your own route through the fresh snow far from other hikers. And when you're hiking with a guide like Helga you learn a lot about the environment – the mountains, the trees and birds – at the same time.
The area we are exploring consists of farmland and meadows. During winter it's empty, but in summer farmers live here with their families and cattle in their summer farms, beautiful wooden houses. Most of them are closed during winter, but you can rent some of these farms for a really good price.
After our exhausting hike it was time to refuel.We tried some typical Bregenzerwalder dishes in Nussbaumer restaurant in Sibratsgfäll. Like the Kasefladen, a sort of pizza dough filled with onion and cheese. Well deserved and yummie!