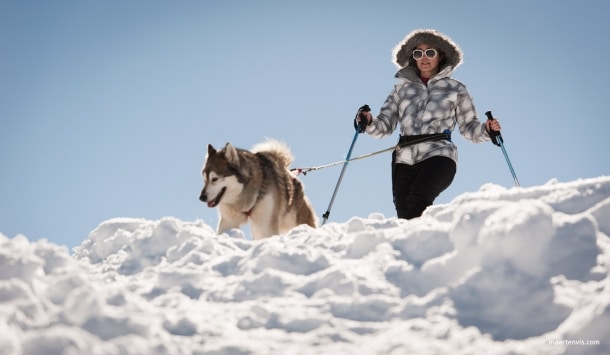 Sleigh riding with huskies in Austria? Yep! We couldn't believe it ourselves at first, but somewhere hidden in the Brandnertal mountains there's a guy named Husky Toni who has his own husky farm with 16 beautiful dogs. These beautiful wolf like creatures have the most amazing ice-blue or hazel eyes and soft grey-brown fur. You can't but fall in love with Maja, Grizzly, Kiro, Ronja and the others. And did you know there are different races? There's the Siberian husky and the Alaskan husky for example. The first one being smaller and famous for its bright blue eyes. Both have been used for dog-sleds for centuries, and being hard workers they sometimes travel over a 100 miles per 24 hours.
We started with a dog-hike, where one of the dogs leashes is tied around your waist. This way, when you hike, the dog can help you up or down. Well, not always, sometimes the dog was too fast for me and dragged me through the snow (a very welcome cool-down on this hot winter day!)
Obviously, the sleigh-ride was the most fun. With 4 dogs pulling each sleigh you really gain a lot of speed gliding over the snowy paths. It's really something and I almost felt like one of those explorers in Alaska at the end of the 18th century. If you're ever going on a skiing trip in Vorarlberg make sure to book one of his excursions. It's different from everything we've ever done and it makes you realize how humans, animals and nature were once much more dependent of each other.
If you're looking for a way to change your lifestyle or need to get rid of stress, you can book a special mental coaching workshop with Husky Toni and a coach. The combination of the bond you create with the dogs, the physical work and talks in one of the ancient stone ruins close to the farm have helped a lot of people find their balance.