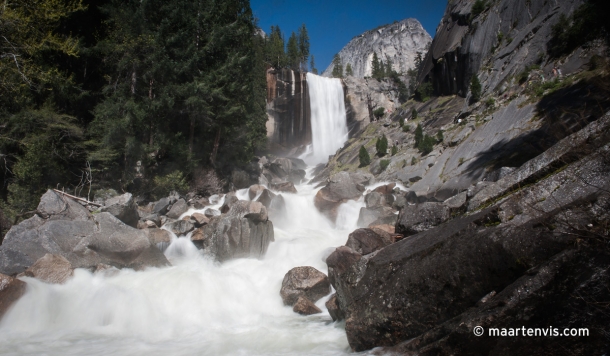 Sometimes after a really great trip we suffer from a reverse form of homesickness. Only the really special places do that to us, and Yosemite Park is definitely one of them. We did such an amazing hike, I just wish we could go back there now and enjoy it all again. We started at Curry Village and walked the mist trail all the way up – and up it goes! – to the Vernal Falls and after that even higher up to Nevada Falls. Now you might wonder; why is this trail called the mist trail?
Is the scenery so beautiful your eyes mist up? Well, yes, that too, but the name becomes clear when you follow the path alongside the river. Still no hint here. Until all of a sudden a cool breeze hits you in the face. Wait, not just a cool breeze, but a soft damp touch of air – coming from water from the fall spread by the wind and traveling sideways. It's almost as if angels are softly spraying your face with a really fresh toner. And as you walk higher up and follow the steep stone stairs it's not just your face that gets a little damp. No, no, no! The soft breezy watery air slowly changes into heavy tropical rains, so slowly you hardly notice it until you're soaked. Soaked from head to toe. Soaked shoes. Soaked socks. Soaked pants, shirt and backpack if you're not careful. Refreshing? Yes! Cold? A little. But at the same time so amazing that you don't really care. The rainy air creates rainbows everywhere and witnessing this makes you almost forget that at this point you're actually freezing. Luckily, on top of the waterfall there's a plateau where you can rest and dry in the sun before you start the second part of the hike. But more about that tomorrow….
P.S. My favorite part of the hike is definitely the part of the river that's called Silver Apron. It's a slope of rock where water runs down in superspeed. It's hard to describe, so if you want to see what I mean, check the short video clip at the bottom of this page.