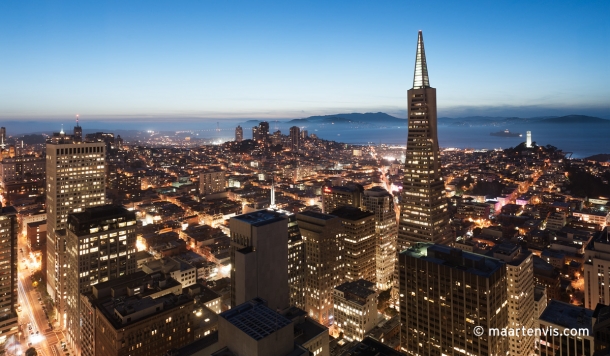 If Lucy from A Room With A View could have seen the view from my room, she would have appreciated it even more than the view she got in the little Italian pension together with her cousin Charlotte. Of course here in San Francisco, she would not fall in love with a free-spirited post Victorian Englishman named George, but a gold-rushed pioneer named Jack or James. But hey, we can't all be as lucky as I am right now. I look left and I see the city of San Francisco lit up like one big Christmas Tree: the beautiful art-deco Coit Tower, Grace Cathedral and the Golden Gate bridge dangling in the mist. I look right out of the other window – yes this Mandarin Oriental room has corner views overlooking the whole city! – and I see the Bay Bridge, Treasure Island and the rest of the Bay Area. But most of all, you see the sky, the clouds, the stars and the infamous San francisco fog. George was right after all: "There's only one perfect view, and that's the view of the sky over our heads."
And hey, if you look at the picture you get that the view is not the only feature I am happy about! Even with a brick-wall-view I would be glad to spend weeks in this bigger-than-my-apartment-back-home-room. Got to go now, room service is at my door. Tomorrow I will tell you all about my escape from Alcatraz and amazing vintage finds in Haight Ashbury.
P.S. in 24 hours we will announce the winner of the I Am Out There Nikon competition.