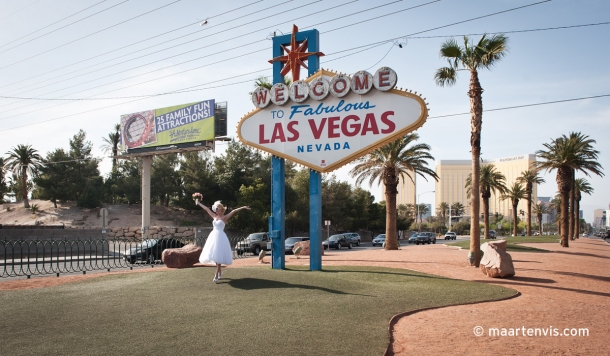 Today I strolled the streets in Rome, had a Perrier in Paris, enjoyed a gondola ride in Venice, drove past the Sahara and visited New York. Sounds impossible right? Well, not when you're in the super-weird-fantastic-crazy-everything-is-possible city Las Vegas! This place is almost indescribable, but I'll give it a try anyway. OK, forget the gambling. Of course it's everywhere – it starts right next to your luggage belt at the airport for example and you'll even find slots in the rental car pick up area – but Vegas is more. It's a mixture of old glory hotels, the ones where Elvis used to perform, modern kitsch and over-the-top-fake. And with fake I mean the exact copy of Venice, only slightly smaller than the actual city. The high-end streets of Rome, complete with Trevi Fountain, painted sky and adjusted lighting, so you feel as if you're walking the streets of this Italian capital by night.
I enjoyed it, for one night. And during this night I got infected with the Vegas-Virus and went completely blind for the Disney-for-grown-ups vibe that makes you buy every possible souvenir; from pictures taken of you with weird photoshopped backgrounds, t-shirts saying "what part of take me to Las Vegas, don't you understand" and everything with Elvis on it. I actually liked my dinner on the Piazza San Marco where I almost believed I was sitting on a square in Italy. Sang along with Beatles songs during the Cirque du Soleil Love show in The Mirage and almost won the Jackpot. Almost.
But after 24 hours I wanted out. To the real outside. Because there is just too much craziness, too many sounds, bells and flickering lights around you. Good for us that close to Vegas you'll find some beautiful national parks where you can escape this craziness and land with two feet on the ground again. Like Death Valley, but more about that tomorrow!