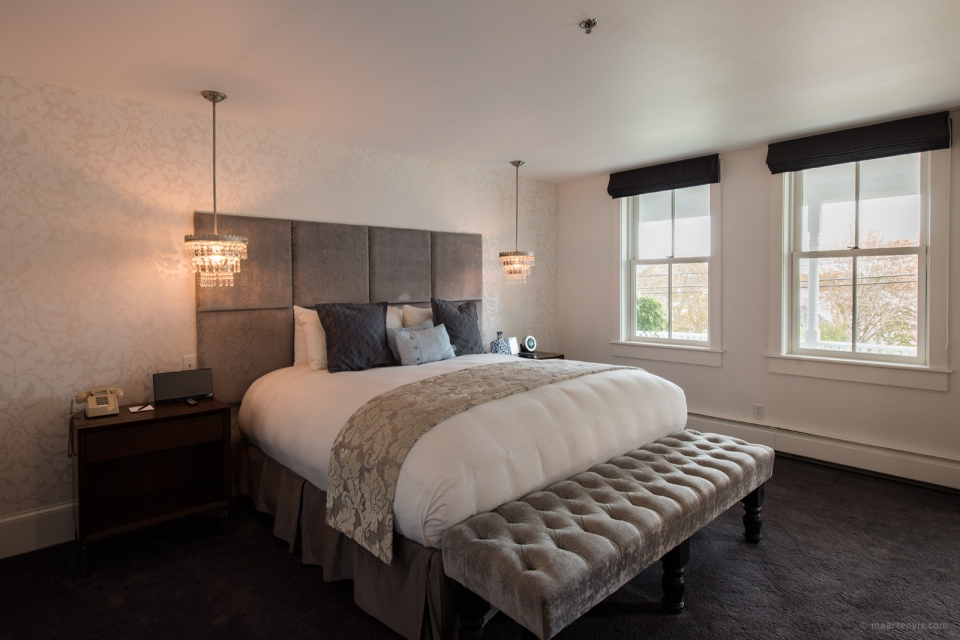 Some places have it all: Perfect location, fantastic rooms and a restaurant that serves delicious food. We're talking about the Camden Harbour Inn. Not only is Camden as picturesque as can be with its typical white wooden houses, a Maine street filled with shops and delis and a pretty little harbor. It's the quintessential Maine coastal town. Make sure to bring your camera and enough memory cards!
The Camden Harbour Inn is probably the most beautiful and chic inn we have ever stayed in. Situated on a hilltop with mountain-, harbor- and sea views, opening your curtains in the morning is definitely an extra treat. The place is owned by a Dutch couple who did the decoration of the rooms themselves. They're filled with designer furniture, art, magazines and the biggest, softest bed you ever slept in. Trust us, if the breakfast (waffles….yum!) wasn't this good, you would never want to get up in the morning.
The inn has its own restaurant, called Natalie's, that was awarded with an AAA Four Diamond Award and won the Opentable Diners' Choice Top 100 Best Restaurant In America Award. They serve locally sourced dishes like Seared Scallops, Maine Lobster and Caramelia Mousse Bombe and even have a special vegetarian menu! Make sure to reserve a table – even if you're staying at the inn – you don't want to miss any of it.
After a great meal, a good night's sleep and fresh coffee it's time to explore the beautiful Camden Hills State Park…but more about that next time.
P.S. Want to know where we are right now or traveling next? Follow us on Instagram!