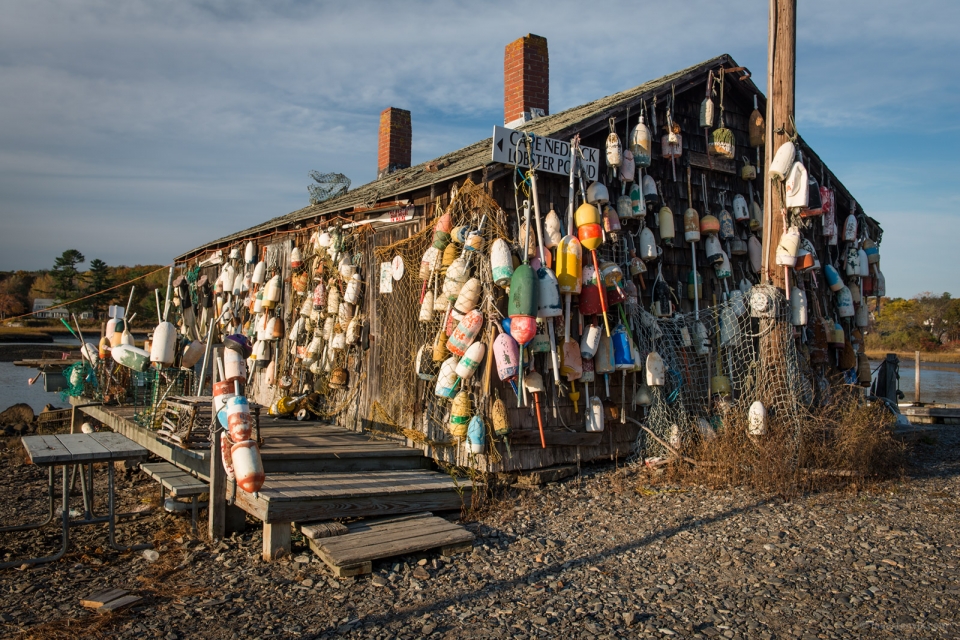 After spending a day in Kennebunkport we left to drive along the beautiful Maine coast. (of course not before we bought a whole new Christmas decoration set at the Copper Candle on Dock Square). We followed route 1 south and made sure to stay on the 1A as much as possible – this road takes you close to shore and this is where we you'll see typical New England, at least, we think so!
Don't miss beautiful Perkins Cove. This old fishermen community in Oguinquit became popular with artists more than a century ago and the mix of boats, ateliers, restaurants and shops makes it the perfect afternoon outing.
Keep driving south and make sure to taste one of the best Lobster rolls at Cape Neddick. The view over the water is amazing and this little boat shed decorated with a hundred buoys and boat fenders the perfect photo opportunity. (Can you spot the two plastic legs?) A little further en route you'll see fields filled with pumpkins and farm shops where you can buy fresh fruit, cider and flowers. And if you're lucky you might even catch the late foliage colors the area is known for.
Next stop: Portland, where we visited some really good and beautifully decorated restaurants. More about that next time!