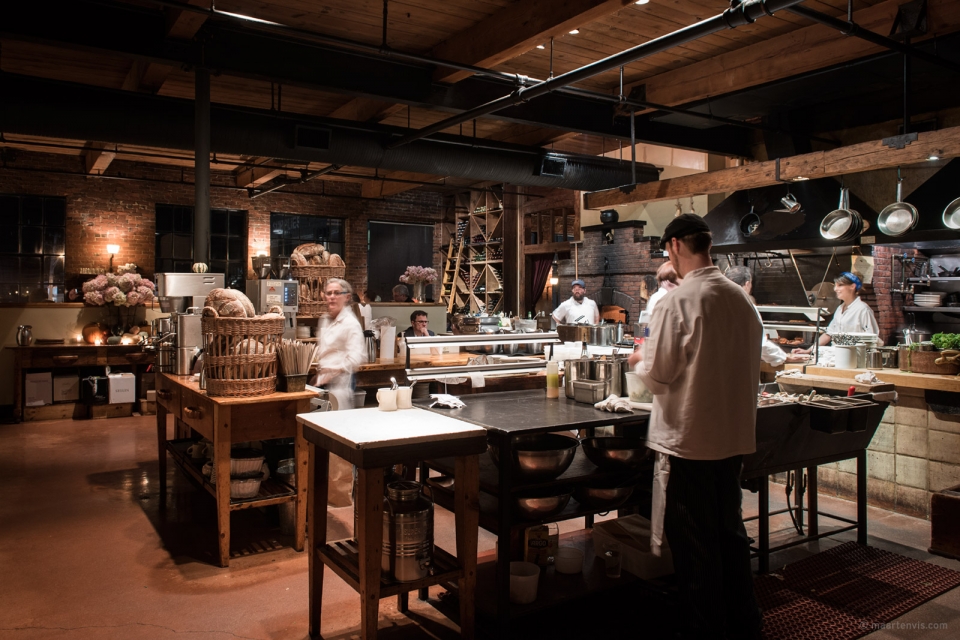 If you follow route 1 along the coast of Maine, you'll get to Portland at some point. If you like good food and beautiful restaurants, this is your next stop. Here's our top three Portland restaurants:
1. Duckfat: Fans of fries will love the homemade hand cut Belgian ones fried in….yes, duck fat. Crunchy, tasty perfect fries like you've never tasted them before. In all honesty, they might as well have called this place Milkshake or Sandwich, cause the creamy shake with Tahitian vanilla or salted caramel and the juicy panini's (sautéed mushroom with squash and basil pesto mayo anyone?) are just as good.
2. Fore Street: Probably one of the most beautiful restaurants we have ever seen. The industrial building with its brick walls consists mainly of a large kitchen, situated in the middle, making it almost a live show. Two chefs man the enormous wood burning oven, two others guard the turnspit. There's even a separate salad chef and a little room where they keep the vegetables, all locally sourced. It's no wonder they won lots of awards, this place is unique. Chosing from the menu is hard, so try to come back at least once while you're here. The wood oven roasted Maine mussels with almond garlic butter are a must, the turnspit roasted chicken something to come back for. Even the salads, soups and vegetables are so fresh and tasty, you wouldn't mind being vegetarian for one night.
3. Eventide: A late lunch or drinks before dinner? Oysters and a cocktail are always a good idea. You can choose from dozens of different oysters, some locally sourced, others from further away. Order the Ebenecook, a lobster stew and pair it with Green Mimosa and your afternoon can't get any better.
Of course, Portland has more to offer than just food. In order to get hungry a shopping spree might help. Browse for gifts at Blanch + Mimi and visit the harbor area for our favourite store: K*Colette. They sell beautiful fabrics, baby gifts, home decor and local beauty products (please smell White Sand by local brand Finn & Co. It reminded us of long summer days on the beach when we were young. Even after a year that small bottle keeps us happy!)